Melnea Cass widening project raises resident questions, concerns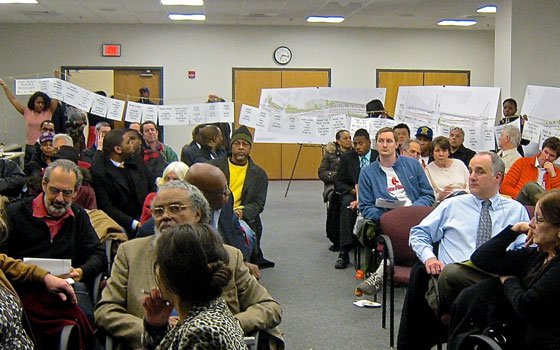 The full crossing distance on Melnea Cass Boulevard would be 108 feet. Compared to other center-median transit line locations, it would be shorter than Beacon Street at Coolidge Corner (111 feet) and Huntington Avenue near the Museum of Fine Arts (126 feet).
Regarding tree loss, project planners acknowledged that mature trees would have to be removed, but said new plantings would create a net gain of about 100 trees.
Under questioning about the necessity and purpose of the BRT lanes, Hoey said, "We were pretty much mandated by the [Roxbury Strategic] Master Plan and the Urban Ring to have the transit corridor. The idea is we're building for the future."
Even without BRT in place, he said, existing bus routes and possibly emergency vehicles could use the new lanes and make faster trips through the congested area.
After a number of puzzled and concerned comments about the BRT aspect, Boston City Councillor Tito Jackson asked if perhaps receiving federal funds was tied to building dedicated BRT lanes. Hoey did not have an immediate answer, but in a later e-mail said the funding does not depend on new BRT lanes. But he noted that the Roxbury Strategic Master Plan (RSMP), devised in 2004 with community input, states that any reconstruction of Melnea Cass Boulevard must incorporate both transit and bicycle facilities into its design.
Indeed, the RSMP stipulates BRT development to fit in with the state plan to create crosstown links (the Urban Ring) between existing Greater Boston transit routes.
"In the current thinking of the Urban Ring project, Melnea Cass Boulevard will become a Bus Rapid Transit (BRT) corridor," the document states. "This connection would provide Roxbury residents access to more options for jobs, job training, retail, social and cultural facilities." The RSMP says that BRT buses could run in mixed traffic, in exclusive lanes or in dedicated busways.
Some attendees wondered whether the "extra" land for the street project would come from the Madison Park housing area. Hoey said no property will be taken from Madison Park or any other owner; expansion will be on land already owned by the city or state.
State Rep. Gloria Fox, whose 7th Suffolk district includes a portion of Melnea Cass Boulevard, said that attendees in previous meetings had suggested a walking tour of the street to show local residents exactly what will happen where. The project team agreed to schedule a walk-through sometime this spring.
A widened street seems counter to the idea of reducing the barrier effect, several community members said.
"I don't see how your plan fits into a neighborhood feel," said Bill Singleton, a local resident and landlord. "I walk there now, and it feels like a commuter route. We want you to pay attention to the people who live there. We want to see that it's not going to just be a widened, desolate area."
Hoey agreed the boulevard feels like a highway now, but said the new accommodations for walkers and bicyclists will make it feel more like an urban neighborhood street. And better bus transit will attract more riders, helping to reduce vehicle traffic, he suggested.