Hotspots - Fetysh Shoes in Roslindale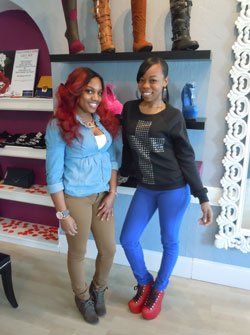 Upcoming News:
In mid-March they will expand their operating hours to Tuesday - Saturday 12 p.m. - 7 p.m., and they are working on adding an e-commerce component to their website.
Outside Services:
You can preview shoes in the store on Instagram @Fetyshshoes, where they say they drum up about 75 percent of their business. If you see something you like, you can even put it on hold by leaving a comment on the post. They'll hold the shoe for 24 hours, just enough time to get down to the store and try them on. Don't forget, there are only 12 pairs of any given shoe, and they do go fast!
Staying true to their roots, they frequently host shoe parties at the shop after hours, and also allow clients to host their own. In addition, they continue to do shoe parties in private homes upon request.
Why You Should Stop By:
From the time I walked in, I might have confused the shop with the local hair salon the way customers were stopping by just to chat with Alicia. She greeted everyone with a bright, genuine hello and stopped our interview several times to ensure her customers were receiving the proper attention. "I want our customer service to be the number one thing that stands out for us," she says. "I want our customers to feel like we're your girlfriends. You can try on your dress here. You can put on 10 of the shoes and take photos to show later to your girlfriends at home. I want this to be a warm atmosphere."
Fetysh's personalized customer service and exclusive, affordable trends make for a pleasantly addictive combination.