Hotspots - Fetysh Shoes in Roslindale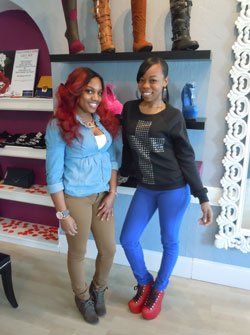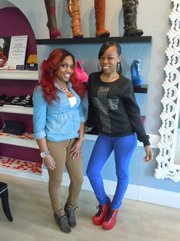 The neighborhood of Roslindale is rapidly becoming a hotbed of trendy restaurants and shops. Amongst them is Fetysh, started by 26-year-old wife and mother Alicia Walton less than a year ago. What started as a young girl's love of shoes moved to in-home shoe parties and has now blossomed into a business. The idea behind Fetysh, located at 4266 Washington St, is to supply fashion-forward exclusive styles with affordability at the seam.
The Décor:
When Walton describes the style of the shop, she says, "I wanted it to feel like something on Newbury Street. There are a lot of places that kind of do what I do in the way of offering nice things for not too much money, but the décor [is] kind of serve yourself, and [the product] is just put out there … but I wanted my customers to feel like they were coming into a nice space. " Interior designer Tina Hill helped to give the space a Beverly Hills meets Washington Street feel. The black and white wallpaper with light blue accents creates a perfect backdrop for the brightly colored shoes. Plush benches and ottomans provide comfort that makes customers want to stay long after they've tested out their favorite designs.
Shoe Styles:
Fetysh is the place for the woman who wants anything but basic. Walton works hard to find shoes that can't be found in the regular chain stores. Even if you want shoes for church or an upscale event, you'll still have a bit of "flair," whether it is with a tassel on the heel or in a color that stands out. She only orders 12 pairs of each style, so you are truly getting a unique style. She works to keep prices low with styles ranging between $35 and $120; most fall within the $60 range.
So what's hot right now? Walton says, "Heel-less — which has been on since August of last year. Spikes are definitely a trend, although they are starting to fade out a little bit, and studs are starting to take their place. For spring: bright colors — like your mints and your corals, and of course platforms are always in."
Accessories:
Though shoes are their main focus, they also dabble in accessories and clutches. They've even taken on some local designers like Wrist Candy by Erika, an independent local jewelry designer who Alicia met during her vendor table days. "I want to have exclusive stuff. I want to support different local business within my community … because people supported me," Walton explains.
The accessories that they carry are even more exclusive than their shoes, as each piece is one-of-a-kind, so it's no surprise that they are the items that go the most quickly.
Will they carry clothes in the future? "I don't know about clothes just yet, that's not really my expertise, but definitely handbags. I'm trying to bring things in slowly to see how my customers take to it, then maybe some fedoras or sun hats in the summer … maybe scarves and tights in the fall … we'll see."