Choreographer brings gravity, pathos, grace to 'All Kylián'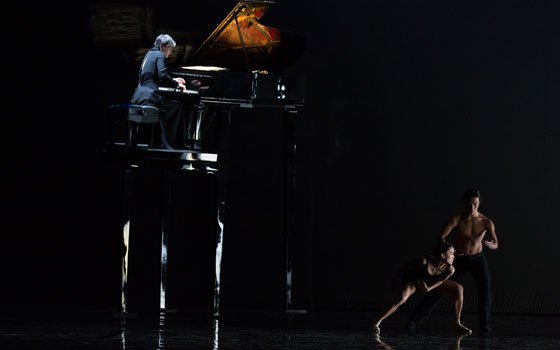 As a spotlight on a slow-moving crane lights the dancers, the spectacle emerges of a pianist playing a grand piano elevated by 10-foot stilts. Tomoko Mukaiyama, a musician who performs this work with dancers throughout the world, is stately in a long black dress. She accompanies the music — Mozart's Piano Concerto No. 9 and spare electronica by Dirk Haubrich — with live improvisations in response to the dancers.  
A mirrored floor coated in reflective plastic seems to elongate the dancer's and piano's legs. The group moves slowly, as if weighed down, or joined in sculpted shapes. At one point, two men on hands and knees form a single organism. Standing astride their rising and falling backs, a female dancer with a fierce expression strikes a pose like a pharaoh in a royal procession.     
When the music shifts from Mozart to Haubrich, the stage darkens and the silhouettes of the piano and a departing dancer dissolve into shadows. The voice of Jirí Kylián reads Beckett's poem, and the spectacle takes another unexpected turn, true to Beckett's own playfulness as he peers into the abyss.  
 "All Kylián" closes with the majestic "Symphony of Psalms" (1978), set to a choral and orchestral work by Igor Stravinsky commissioned by the Boston Symphony Orchestra in 1930 for its 50th anniversary. Accompanying the 16 dancers are the Boston Ballet Orchestra, led by musical director Jonathan McPhee, and the 58-member New World Chorale, conducted by artistic director Holly MacEwen Krafka.
"Somehow, in this work we were able to create a certain kind of 'spiritual architecture' filled with physicality, and a certain degree of faith," Kylián writes in his website.
A shimmering silver curtain reveals the set, designed by William Katz — a jewel-toned mosaic of Persian tapestries. In contrast to this opulence, the dancers wear muted costumes by Joop Stokvis, dresses and matching shirts and pants in pale earth tones.
Kylián's choreography for this work is full of patterns, like the carpets and the music. As the dancers mold their bodies into rows and columns, some formations evoke the ribbed arches of a transept in a gothic cathedral. When one dancer lifts another into a cruciform shape, the form suggests the Christian symbol of the cross. As the orchestra's wind instruments create a sinuous melodic line conjuring a Middle Eastern thread, the dancers' kneeling bodies face the carpets, evoking a mosque.
Yet the work wears its religiosity lightly, and some ensemble formations resemble folk dances. Amid the communal rituals are intimate, balance-testing duets. Holding her body arrow-straight, one dancer leans at a 45-degree angle as she walks over a row of chairs, her hand held lightly by her male partner.
Evoking communal bonds of all kinds, "Symphony of Psalms" celebrates the universal power of music and dance to elevate and connect people.