Rev. Gregory S. Groover admits to misusing $850,000 in grants to pay for expenses at Charles Street African Methodist Episcopal Church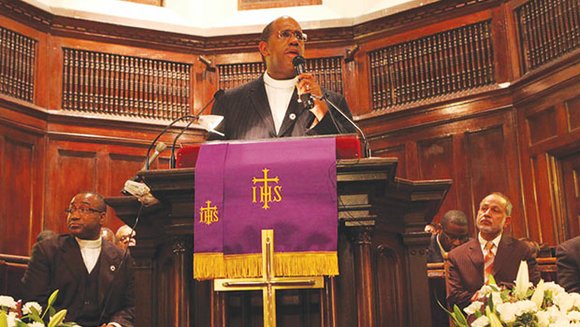 The OneUnited construction loan became due on June 1, 2008, and despite a total of five extensions, the church was unable to satisfy its debt by Sept. 1, 2009. A year later, on Aug. 17, 2010, OneUnited then sued in Suffolk Superior Court for breach of contract.
Also named in the suit was Charles Street AME's co-signer, the First Episcopal District of the African Methodist Episcopal Church, based in Philadelphia. At the time, the First District, based in Philadelphia, claimed it had $65 million in cash and nearly $500 million in assets, and had pledged its assets as collateral for the loan.  
Charles Street had also borrowed another $1.1 million, separate from the $3.6 million construction loan. That loan is also in default.
To forestall the pending foreclosure of its property by OneUnited Bank, Charles Street filed for bankruptcy in March 2012 in a move to keep the church operating as it has for nearly the last two centuries. In addition to its debts to OneUnited, Charles Street owes about $630,000 to Thomas Construction Co., the Dorchester firm hired to build its proposed community center; another $450,000 is owed to Tremont Credit Union for a loan to repair the church's roof.
Groover now says the church is "upgrading its financial management" by creating a new "atmosphere of transparency," keeping better financial records and ending the church's policy of cash withdrawals from church bank accounts.
Groover also testified that the he has cut expenses at the church and pointed out that he had not received a raise in his salary of $70,000 since 1998.
In documents filed last year, OneUnited bank rejected a repayment plan offered by Charles Street to repay its outstanding loans — a payment plan of $27,000 a month over the next 30 years.
Based on financial statements submitted by Charles Street, OneUnited attorneys remain unconvinced that the church would make such payments. Charles Street even asserted as much.
"Our operations," Charles Street financial documents state, "are dependent on individual donations for substantially all of our revenues, and there is no guarantee that donations made from such sources will remain at levels comparable to present levels or that they will be sufficient to cover all operating and fixed costs."
 In fact, the church argued, "increased unemployment or other adverse economic conditions in our community might decrease our congregation's ability to contribute to the church." According to the proposed Charles Street plan, none of the smaller creditors — the 28 companies owed amounts ranging from $370.18 to $17,790.88 for a total of about $115,000 — would receive any money.
But the plan would pay Thomas Construction. That money, targeted to repay an outstanding $250,000 to the construction company and "complete" the project, would come from what Charles Street described as "generous assistance" from the First District — a $1.5 million "donation."
In court documents, OneUnited lawyers described the Charles Street plan as "disgraceful" and called its financial management "a failure."