FUEL Education helps low-income families save for college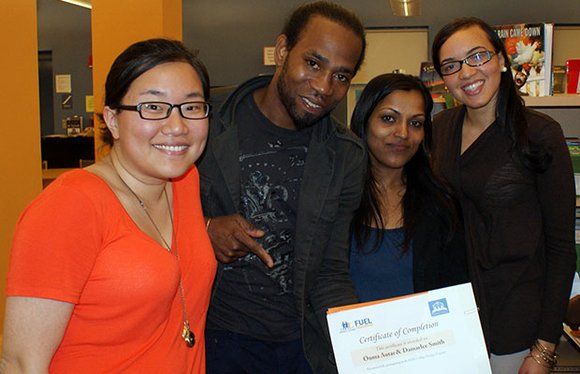 While middle-income families often have to walk a tightrope between financial aid, savings and EFC, Miller says that with low-income families the EFC is often zero and the savings and contributions from the FUEL program have no real impact on financial aid.
"Because of the economic status of our families, we don't get into that kind of issue," Miller said. "The savings are not that big a number to move the expected family contribution. … When you are very low income you tend to have very significant opportunities for financial aid based on FAFSA.
"The $1,200 saved for most of our families will not impact EFC in a measurable way," Miller added.
In fact, the FUEL program released numbers that say 50 percent of the families sending students to college this year reported an EFC of $0 to $5,000 for their children's first year of college.
In addition, the FUEL program is getting students off to college and keeping them there at higher rate than Boston Public Schools. Since 2009, when FUEL was started, 100 students have graduated from the program and gone on to college. 89 percent of them stayed in college past their first year, which compares to a rate of only 61 percent for all Boston Public School students who enrolled in college, according to a recent study.
Founded by Robert Hildreth, a banker and social entrepreneur, FUEL is headquartered in Boston and has sites in Boston, Chelsea and Lynn. All told, $375,000 has been saved so far by families to support over 600 students for college.
The 56 students that graduated from the FUEL program this year, aside from those attending Salem State, will be attending schools such as Boston University, Howard University, Northeastern University, UMass Amherst and other state and local colleges.
"FUEL definitely made a difference in my life while I was in high school," said Jasmin Matos, a third-year student at Northeastern who was part of FUEL while she attended high school in Lynn. "They helped my parents, who helped me through the application process. [Because of FUEL] my parents were much more prepared. They didn't go to college so without FUEL they were not going to be able to put me through the process."
In fact, Matos' older sister did graduate from high school and go off to a two-year college, but she did not take part in FUEL and struggled to make it happen. "Her process was a lot more difficult. She thinks that she would have had more opportunities [if she was part of FUEL]," Matos said. "My parents were not that involved in her process, they did not know that much about the deadlines or anything about the process. My sister did it all on her own."
Jasmin Matos' mother Illuminada Matos agrees.
"There was a big difference because with my first daughter I didn't have the knowledge to support her through the college application process. With Jasmin, I would go every month to a parent meeting and would learn about the college application process and what I could do to support her," she said. "FUEL helped me learn the importance of saving money and putting aside funds for the education of my daughters. The way I save money has changed."