In the Mix: The Rise of Ryan Coogler
Director garners acclaim for debut film Fruitvale Station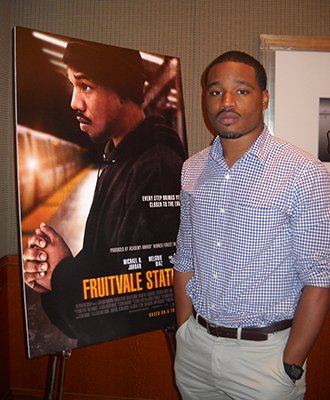 Not at all. It's cool and it's life. I think it's a blessing. How great is that we were able to get this film made? And people were able to see it and want to talk about it? The reason we made the film was for people to watch it, for people who weren't familiar with the situation to be exposed to it.
Are you hoping that people will take away something from the film or just able to tell the story?
I want it both. I want people to be aware of the story. That's a huge gift.
What did you see in Michael B. Jordan for him to play Oscar Grant?
Mike's incredibly talented. He's really dynamic and he has those different threads as an actor. It takes a talented actor to do what he does, especially in this film. He carries this film on his shoulders. Something about Michael is God-given. He has a personality. And even when he's not acting, he makes you lean forward. He comes into the room and you want to know what's going on with him. He grew up in Newark and he's a year younger than Oscar would have been if he were alive today. And coming up in that environment, being a young black dude, you've got to be a chameleon and I needed an actor that understood that.
How was it speaking with Grant's family about this film?
They were apprehensive, especially going through the trial that they went through. It helped being from that area. I told them I wasn't doing it for the movie or for "shine" or anything. I wanted to tell their story and figured it might offer some insight and maybe it could help. And, having Forest Whitaker's production company behind me was the biggest thing for them. He has such an incredible track record. He's known for being such a good person aside from being a really great artist and businessman. They signed their rights over to his company, not to me.
What did you learn from working with Forest Whitaker?
I learned that someone could be a great artist and can have a great work ethic in this industry and not sacrifice who they are as a person. They can use that to be effective in society. He tackles so many issues. He still has a family as well and seeing his life, it's possible to work in this industry, to have a career and be socially responsible. And, use that career to have a positive social impact. And to be humble. He's all those things.
Go see Fruitvale Station when it opens nationwide in theaters this Friday, July 26.
If you would like Colette Greenstein to cover or write about your event, email inthemixwithcolette@gmail.com.