A Heart to Heart with movie star, comedian Kevin Hart
Funny man talks about making it, crying on stage, heartbreak
Kam Williams | 7/18/2013, 6 a.m.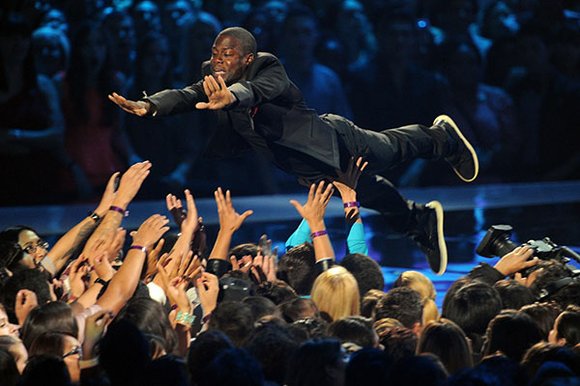 You talk a lot about dating in the movie. Is there a Kevin Hart relationship advice book in the works?
[Chuckles] Funny you should mention that, Kam. I don't know if I'm at the relationship advice stage yet. I do have a lot of information to share, and a book is definitely in the works, but I don't know whether it'll be geared toward relationships. 
In the film, you cried at the end of the concert at Madison Square Garden. What was the emotion that overwhelmed you at that moment?
I never thought in a million years that I'd ever sell out back-to-back shows at The Garden. That's not to say I never expected my career to take off. Still, it was a "Pinch me, wake me up" moment. I was like, "Wow! I can't believe this. That I'm actually here, and this is actually happening." And in that moment, when I was about to thank my fans for supporting me, I noticed that they were standing up clapping. It was overwhelming, and became a very emotional moment when I tried to thank them.  
I also liked how you had pyrotechnics going off onstage during the show periodically.
[Laughs] That was my way of joking around by saying, "I'm about to jump into a different level, because I have fire." Ain't no other comedian ever had fire.
When did you know you had made it?
The beauty of it is that I don't think I've ever really relaxed. I want to do too much within the business. And there's so much you can achieve with a launching pad like stand-up comedy. You can literally go from acting to hosting to being a personality to …
To the Real Husbands of Hollywood?
[Chuckles] To the Real Husbands of Hollywood. It all depends on what you're willing to invest time and effort in and put your mind to. That's what separates winners from losers. Winners are the ones who want the most out of their opportunities.
What is your guiltiest pleasure?
Creation, getting behind a project from start to finish, and being able to see it blossom into a success.
What is your favorite dish to cook?
I can't cook, but I can make a turkey and cheese sandwich like nobody else.
What excites you?
Seeing my kids happy.
What was the last book you read?
Act Like a Lady, Think Like a Man.
What was the last song you listened to?
Salt-N-Pepa's Push It.
Who is your favorite clothes designer?
Right now, I'd have to go with two: Lanvin and Yves St. Laurent.
What was your best career decision?
Focusing on stand-up comedy 100 percent.
When you look in the mirror, what do you see?
I see a man with drive and determination who wants to go down in history.
If you could have one wish instantly granted, what would that be for?
For a better-looking pair of feet.
If you only had 24 hours to live, how would you spend the time?