Trayvon Martin: Florida jury's not guilty verdict 'failed us'
Lawrence D. Bobo | 7/17/2013, 11:21 a.m.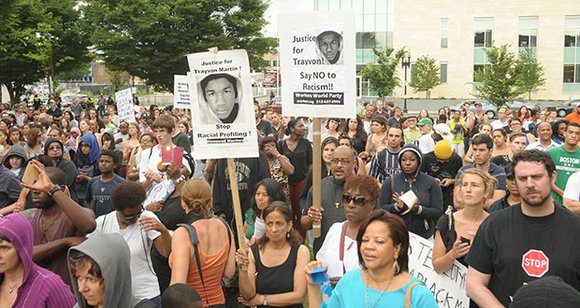 I feel ineffable anguish for Trayvon's parents. Their son has, effectively, been murdered twice. No parents should have to suffer such pain and indignity. I feel sad for black parents from one end of this country to the other, especially the parents of young black boys. What do you tell a black teen today? What should they take from this trial? That a prosecutor wasn't as good as the defense in a particular trial? That the evidence just wasn't strong enough? That six honest people did their duty? I don't think so. This just isn't good enough.
The reason it isn't good enough is that the elemental facts of this case will never change, and this jury made the wrong, morally bankrupt decision. We have public trials so that we may all observe and see a system dedicated to justice under the law striving toward that end. On too many dimensions, this trial sent the wrong message.
Truth is, however, I expected no more than what we got. As soon as the jury was empaneled, I had the terrible feeling of déjà vu and dreaded expectation that this would prove to be another Simi Valley situation. And it did.
I might not feel so bitter if the U.S. Supreme Court had not just gutted the Voting Rights Act. I might not feel so bitter if the same court had not just effectively established, in my estimation, an unattainable standard for constitutionally permissible consideration of race in pursuit of diversity in admission to colleges and universities. Indeed, I might not feel so bitter if stop-and-frisk was not an accepted practice in arguably the most tolerant city in America. But all of these things are true. And it sickens me.
Aggravating me almost as much is the lack of any organized, focused response to all these conditions from within the African American community. To be sure, this is not the place or time for another critique of black leadership or the black middle class.
Were he still with us, I think Derrick Bell would counsel realism, which to him meant giving up on the naive dream that America would ever relinquish a commitment to racism and white supremacy. I am angry, outraged and disappointed with this verdict, but even at this moment, I cannot embrace this level of pessimism.
The path ahead is not an easy one. Trayvon's killing demands justice. The need to bear witness here is clear. A decision that is the living embodiment of racism in our body politic happened, even if not a single member of that jury understood themselves as acting in such a way (I'm quite sure they didn't). That is the power of cultural racism: When it is this deeply embedded in our basic cultural toolkit, it need not be named or even consciously embraced to work its ill effects.
Lots of us are disappointed and angry right now. Seething bitterness, however, is not a solution, nor is violence or striking out. The way forward is one of hard work on social and political organizing, as well as of forcing honest and painful discussions, and a passionate insistence on change and justice. This country still has a serious problem with racism. Let's stop pretending this isn't the case or that it is all somehow healing itself. The second murder of Trayvon Martin compels this conclusion.
Lawrence D. Bobo is the W. E. B. Du Bois Professor of the Social Sciences and Chair of the Department of African and African American Studies at Harvard University. This commentary first appeared on the Root.