Sheriff Steven W. Tompkins tackles recidivism with intensive work program, The Common Ground Institute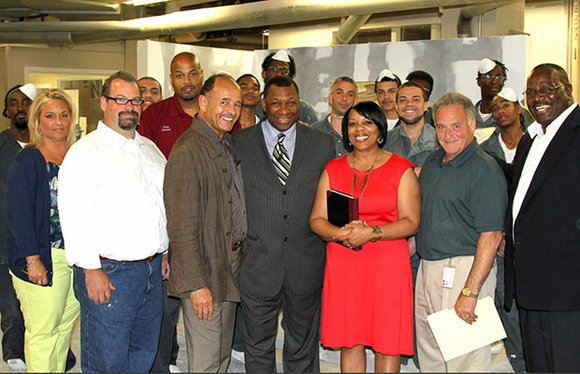 According to Tompkins, CGI uses the information collected during the prison classification process in order to identify inmates who are good candidates for the program.
"When you teach a guy how to lay a floor or hang a wall, they now have a marketable skill. … With that kind of skill you can probably make a good wage for yourself."
— Sheriff Steven W. Tompkins
"We classify guys in CGI, guys that we think have a real possibility of being successful," Tompkins said. "Because they have the mindset that they want to be successful to break the cycle of coming in and out of jail they are more diligent about being responsible. When they get to the work site they want to hold on to those jobs."
And the important part is that employers are satisfied with the employees that have come out of the program. "The feedback we have gotten is pretty positive," said Tompkins. "For the most part the employers have been very pleased with them."
The recent visit of the Cruz Construction owner to the Suffolk County House of Correction was an opportunity to encourage the CGI students and also establish a relationship with another employer in the community, according to Tompkins.
One of the oldest and largest minority owned companies in Massachusetts, John B. Cruz Co. Inc. specializes in housing development, residential management and general construction. It offers services, such as commercial/residential construction, estimating/administration, as well as architectural, structural and civil engineering. The company has contributed to projects including The Fortress, MBRI-Boston Biotech, Boston Police Department headquarters, Reggie Lewis Track and Athletic Center and Prang House and Prang Estates.
Cruz toured the CGI workshop with Tompkins and watched members of one CGI class as they applied joint compound to drywall that they had previously hung to prepare it for painting. Cruz also spoke to the CGI class about embracing the opportunities that will potentially be created by the skills they have acquired through the program.
"Mr. Cruz is a pretty darn good business man.… He is a stalwart in the community … having him come into the facility, he can speak to guys with authority and he can speak to them in a way that will resonate with them," said Tompkins. "When you have someone who is a pillar of the community come in and talk to you, and talk to you about employing you, that is a very positive thing."
Cruz said that this is his first involvement with the CGI program, but that he is happy to provide opportunity through the construction industry, which he says can hire workers coming out of prison with less hurdles than other vocations.
"I am excited about the program," Cruz said. "I am glad someone took the initiative to try this and I am going to involve myself."
Cruz points out that his company has been involved with YouthBuild for over 20 years and he sees similarities with CGI. YouthBuild is a program through which low-income youth between the ages of 16 and 24 work toward their GEDs or high school diplomas while learning job skills by building affordable housing in their communities.
"We try to work with youth and we thought it would be appropriate to work with other people who have an additional hurdle," said Cruz. "I have seen where YouthBuild graduates are able to go back and talk to other kids on the street … and convince them there is a better path [so you know these kind of programs work]."
According to Tompkins, the CGI program will continue to evolve in the future. For example, his department launched a pilot farming program last year that has developed into three phases of teaching different skill sets: an urban farming program, a culinary program and a hospitality program.
"We are teaching guys how to grow food, how to prepare food and how to sell food," he said.
The plan is to roll the food program into CGI next year. "We will continue to roll vocations into the program that will help guys get jobs," Tompkins said.