MIT STEM Summer Institute gives glimpse of math/science future to city students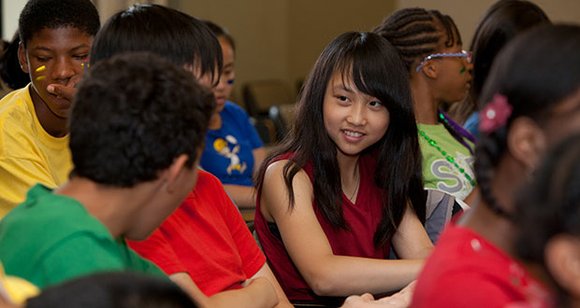 Gonzalo Guajardo is one of the most experienced STEM summer instructors. The Texas native has taught chemistry as part of the program for the last three summers.
Guajardo, who will be a senior at MIT and is studying biological engineering, said his decision to work with STEM and return was a no-brainer.
"I chose to work with STEM because personally I think it is very important to not forget where you came from and give back to the community," he said. "Growing up, I did not live in the best of areas and my education was very limited due to my location. Engaging with the students and just seeing their faces light up when they finally understand something makes my day and that is the sole reason why I keep on coming back."
 According to Guajardo, his favorite experience teaching the students in the STEM program is doing the labs. "The STEM program really lets the instructors run the class the way they would have liked to be taught and I think this is very important," he said. "It gives us the chance to be creative and think about different labs and demos that we can do with the kids."
Guajardo said that he knows the students really enjoy the program because at the end they are always sad for the time at MIT to be over.
"This is definitely not summer school — the work is exciting. The instructors, they are very excited about these subjects."
— Derek Ham
"STEM is only a five-week program, but I feel that during those five weeks we really bond and create a STEM family," he said. "We spend the last day doing a field day with the kids so we can have one last blast before heading our separate ways."
He also pointed out that the STEM program clearly has an influence on the students. "It has a huge impact," he said. "Not only are they learning about different STEM fields, but we make it our goal for them to have fun while learning. We spend time developing curriculum where they can see how important these STEM fields are and how they relate to the real world while still having a good time."
Matthew Okabue, who is a MIT sophomore from Minnesota studying electrical engineering, returned for his second year to teach robotics in the STEM summer program because, he said, his first year teaching was challenging and he wanted to improve on the course he taught last year to offer the students even more.
"My favorite experience with the students was split between the big and small moments," said Okabue. "Watching them work for over two weeks on their robots was an amazing journey. Watching their growth from when they came into our class with little to no understanding of programming and then when they finished the class, they had a robot that they had constructed and programmed on their own. That was the big moment.
"The small moments were when students would approach me before or after class asking me questions about what they should do to become an engineer or get into a good school," he added. "Those simple moments of realizing that I was a role model, as well as a teacher to my students, was something that stuck with me after the program."
According to Okabue, most of the students that take part in STEM are excited to meet friends with similar interests in math and science. He also said they are greatly challenged by the material and even frustrated at the beginning.
"Gradually these students stopped getting frustrated and were able to work through many of the problems that they faced," he said. "I think the most significant change was that we opened up our students to asking questions. Most of them were used to not asking for help since the material came easily to them. So it was good to see them challenged and deal with this barrier earlier instead of later."
Like Guajardo, Okabue has seen the impact of the STEM program on the students.
"I believe that the STEM program sets a realistic, feasible goal for the students," he explained. "Most of them had not had contact with real scientists or engineers, so when they see the instructors they are able to see that they are real people too. That was one of the quotes that stuck with me from one of our students. He said, 'But you guys are normal.'"