MIT STEM Summer Institute gives glimpse of math/science future to city students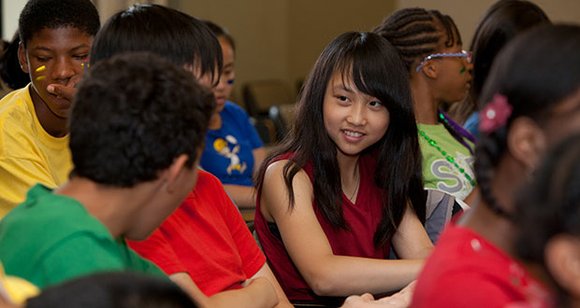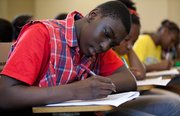 Every summer the Massachusetts Institute of Technology brings close to 100 middle school students, most from Boston city schools, to campus as part of a five-week Science Technology and Math Program (STEM) Summer Institute that provides classes and activities to help get ahead in math and science.
The program combines lectures, projects and experiments and gives the students exposure to college-level material, as well as field trips to places such as the Museum of Science.
STEM Summer Institute, which started on July 8 and runs through August 9, is taught by college undergraduates, many of whom attend MIT. The student participants range from those entering sixth grade this fall to eighth grade graduates entering high school.
Topics covered include algebra, biology, physics, chemistry, engineering design, probability and statistics, robotics and precalculus.
According to Derek Ham, the coordinator for STEM Summer Institute, which is part of the MIT Office of Engineering Outreach Programs, the summer program is very hands on and should not be confused with camp or summer school.
"You want to present them with a formal system of education and some of these courses are almost like college courses … but you also want to present these courses to these kids at a young age without scaring them," he said. "We encourage the instructors to present the material to them in a way that really engages them."
Ham, who graduated from Hampton University in his home state of Virginia, as well as from Harvard University, and is now a doctoral student in MIT's School of Architecture and Planning, explained that one of the best ways to engage students is to break down the subjects into concepts the students understand.
For example, the engineering design course starts off with students bringing objects from home to trigger a discussion of what engineering design is. STEM also includes an end-of-program collaborative project.
"This is definitely not summer school — the work is exciting. The instructors, they are very excited about these subjects," said Ham.
While the STEM summer program is free of charge, the students do have to go through a pretty competitive application process. This summer 87 students are taking part in the program.
Another unique aspect of MIT's STEM Summer Institute is that, like most of the students taking part in the program, many of the instructors came from inner-city schools and a number of them even took part in similar STEM programs, according to Ham.
"A lot of them come from the environments that these kids are in," said Ham. "There have been students that have come through these programs and have gone on to MIT.
"It is good to bring it full circle," he added.
He also pointed out that because many of the instructors have had similar experiences to those of the students, they are able to relate to each other very well and may even stay in touch after the program.
"[STEM Summer Institute] is a very personable program," Ham said. "We make sure the staff have great relationships with students. The relationships they form are really strong. These kids are able to look at them as mentors and big brothers and sisters."