Conversation in modern art
Peabody Essex Museum Features African American artists with new exhibit
Susan Saccoccia | 7/17/2013, 12:06 p.m.
​Works by A-list mid-century photographers and photojournalists James VanDerZee, Gordon Parks and Roy DeCarava share gallery space with luscious gelatin silver prints by Earlie Hudnall, Jr., and photographs of church gatherings by Marilyn Nance, who at age 56 is one of the youngest artists in the show.
​Bostonian Allan Rohan Crite's irresistible "School's Out" (1936) shows a lively South End scene of smartly dressed mothers and their rambunctious daughters. A chronicler of daily life in the South End and Roxbury at mid-century, he regarded his renderings as antidote to clichés described in his diary as "the jazz Negro or as the typical backwoods Southerner."
​Crite was a graduate of the School of the Museum of Fine Arts, Boston, as was his contemporary, Lois Mailou Jones, represented here with two strong paintings, including a self-portrait.
​Works in the second gallery shift from daily life to the realm of dreams and myths.
​Drawing on voodoo traditions, "Zombie Jamboree" (1988) by Keith Morrison shows an Eden teeming with ghoulish beasts and allegorical figures evoking good and evil.

​A surreal image of two girls at play by Hughie Lee-Smith, "Confrontation" (ca. 1970) echoes the paintings of Italian modernist Giorgio De Chirico with its dreamlike atmosphere and long shadows.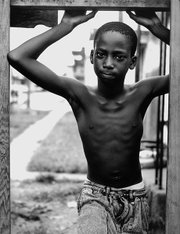 ​Painted in gorgeous hues, "Field Workers" (ca. 1948-1951) by Ellis Wilson renders a family of six in profile with the classical dignity of figures in an Egyptian frieze.
​In the third gallery, works vary from social realism to pure abstraction.
​The great Thornton Dial, Sr., is a former migrant farmer and steelworker whose wall-mounted and freestanding sculptures are the subject of a traveling retrospective organized by the Indianapolis Museum of Art, "Hard Truths: the Art of Thornton Dial." A poet of cast-off materials, he injects raw fire and lyricism into his sculptures, spiritual force that keeps them from going over the edge into outsider art.
​Dial's "Top of the Line (Steel)" (1992) conjures the frenzy sparked by the beating of Rodney King, an unarmed black man, by four white policemen in Los Angeles. Anguished, ghostly faces emerge from this visual inferno, a collage of thick oil, ropes and a bent grill.
​Nearby is Frederick Brown's painting "John Henry" (1979), a bold image of protest etched in a crude, cartoon-like style and tropical palette. Resurrecting the freed slave and steel driver who, legend has it, died outperforming a steam-powered drill, Brown scrawls on the hero's arms and hammer the names of companies that have replaced laborers with machines. By his side, a dog bares his teeth.
A steel sculpture by Melvin Edwards, "Tambo" (1993), named for South African anti-apartheid politician Oliver Tambo, combines a spear, a shovel, a wrench, and a ball and chain into a single potent image of oppression and resistance.
​Although abstract, Sam Gilliam's thrilling sculpture "The Petition" (1990), a composition of thickly layered paint on grooved metal, bursts with energy and serenity.

​Frederick Eversley's "Untitled" (1974), a sleek black sphere of polyester resin with a two-way lens at its center, is both a playful optical experiment and a concise metaphor that suggests no two views are the same.
​Another abstraction avowedly divorced from implied meanings is "Red Stripe with Green Background" (1986) by Felrath Hines. A vigorous activist for civil rights and the inclusion of black artists in mainstream exhibitions, Hines nevertheless believed that there is no such thing as black art. Instead, his painting is an exploration of perception.​Some paintings call to mind works in other galleries. For example, Crite's South End street scene echoes the masterpiece by John Biggers, "Shotgun, Third Ward #1" (1966). Both paintings show ladies in fine dresses and children at play. But working 30 years after Crite, Biggers is telling a more complex story. In his image, dignified people face a church with a charred roof, the order of their neighborhood torn asunder by racial violence. In powerful paintings such as this one, Biggers explores the shotgun, a traditional West African form of shelter transported to the American South, as a unit of resilience and civility.

​Here and throughout the exhibition, even at times when society and institutions fail, artists are on the job, illuminating the past, the present and the future.
​As Thornton Dial said, "Art is like a bright star up ahead in the darkness of the world."