Moroccan Chicken Recipe
with Brown Rice and Lemon Sautéed Spinach
American Heart Association's Simple Cooking with Heart Program | 7/15/2013, 2:16 p.m.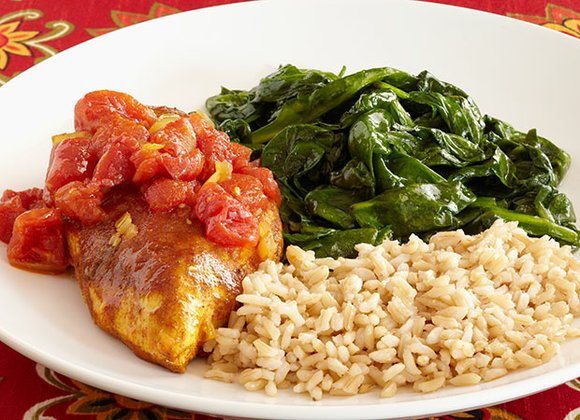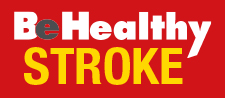 An easy to fix meal that's low in sodium and high in potassium.
4 servings | About $4.21 per serving
Chicken
2 teaspoons paprika
1 teaspoon cumin
1 teaspoon ground ginger
1 teaspoon turmeric
½ teaspoon cinnamon
½ teaspoon pepper
4 boneless, skinless chicken breasts, visible fat removed
1 tablespoon extra virgin olive or canola oil
1 small onion, chopped
1 teaspoon garlic minced from the jar, or 2 cloves minced or sliced
1 14.5 oz. can crushed or diced low-sodium tomatoes
½ cup water
In a small bowl mix paprika, cumin, ginger, turmeric, cinnamon and pepper.
Place the chicken on a plate or pie dish; coat with spice mixture. Allow chicken to stand in spices for 1 hour or refrigerate overnight.
In a medium skillet, heat oil over medium-high heat. Add chicken and brown for 5 minutes.
Reduce heat to medium-low, add water, top with onions, tomato and garlic.
Cover and cook for 10 minutes then flip chicken and cook for 30 minutes more until chicken is cooked through.
Brown Rice
1½ cups of instant brown rice
Prepare brown rice according to package instructions. Makes 4 servings.
Per Serving
Calories 369
Total Fat 11.5 g
Saturated Fat 1.5 g
Trans Fat 0.0 g
Polyunsaturated Fat 2.0 g
Monounsaturated Fat 6.5 g
Cholesterol 73 mg
Sodium 190 mg
Carbohydrates 36 g
Dietary Fiber 5 g
Added Sugars 0 g
Protein 30 g
Potassium 993 mg
Calcium 86 mg
Lemon Sautéed Spinach
1 tablespoon olive or canola oil
6 cups of spinach, washed and dried
½ lemon or 2 teaspoons lemon juice from the jar
In a saucepan or skillet, heat oil over medium-high heat.
Add spinach, handfuls at a time, leaving enough room to stir. If all the spinach won't fit in the pan
let some wilt down and continue to add spinach until all leaves are wilted.
Remove from heat and squeeze lemon over spinach (or sprinkle juice from jar).
For more recipes visit heart.org/simplecooking.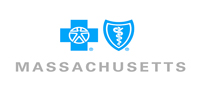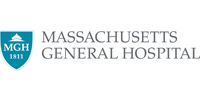 Sponsored by
Blue Cross Blue Shield of Massachusetts
and Massachusetts General Hospital