Rep.Mike Capuano increases fight for privacy rights with "We are Watching You Act" and "Black Box Privacy Protection Act."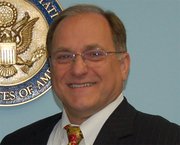 Rep. Mike Capuano (D-MA) cares about his constituents' privacy rights and, in the wake of the shocking revelations about the NSA's PRISM program, he knows that now more than ever is the time to be vigilant about anything that invades privacy.
In the last month, Congressman Capuano has filed two bills that protect privacy – the "Black Box Privacy Protection Act" and the "We Are Watching You Act."
In his eighth term in Congress, Rep. Capuano points out that the influx of new technology into daily life brings up a myriad of issues.
"No one is keeping track of it," said Rep. Capuano. "It is happening everywhere in our lives. I am not against anybody doing anything they want. I am against people invading my privacy without my knowledge or my choice."
However, he does emphasize he is not trying to stop any new technology that raises privacy questions – he is just trying to lay the groundwork for laws that monitor such things.
"I want it to be consumer choice," he said. "It is your information you should control who has it. I am trying to have a discussion about what is it we are going to give up in our private lives. By having this discussion we can try to come up with a thoughtful way to maintain what privacy we have left and maybe get some of it back."
The "We Are Watching You Act" filed by Capuano and Rep. Walter Jones (R-NC) on June 13 is in response to reports that national telecommunications companies are exploring technology for digital video recorders (DVRs) that would record the personal activities of consumers as they watch television from the privacy of their own homes.
The bill points out that current law does not cover DVRs and that the proposed legislation would require both an opt-in for consumer and an on-screen warning whenever the device is recording information about consumers.
Rep. Capuano characterized these potential DVRs "an incredible invasion of privacy."
He also believes that considering the access the government has to the phone numbers people call, the e-mails people send and the Web sites people visit, it is important that consumers decide for themselves if they want this type of DVR technology that essentially watches them as they watch television.
He also said that filing the "We Are Watching You Act" is important because it brings this type of technology to light and can help educate both consumers and lawmakers.
"If you don't want it, first of all, you have to know about it and, second of all, you need to have the choice to turn it off," said Rep. Capuano.
According to the bill, the DVR technology in question would utilize infrared cameras and microphones embedded in DVRs and cable boxes. A patent application filed with the U.S. Patent and Trademark Office by Verizon notes the technology could detect a range of viewer activities.
According to the patent application, the set-top device will be able to distinguish "ambient action … of eating, exercising, laughing, reading, sleeping, talking, humming, cleaning" and other similar actions.