Emerging actor Michael B. Jordan discusses his breakout role as the late Oscar Grant
Kam Williams | 7/2/2013, 11:42 a.m.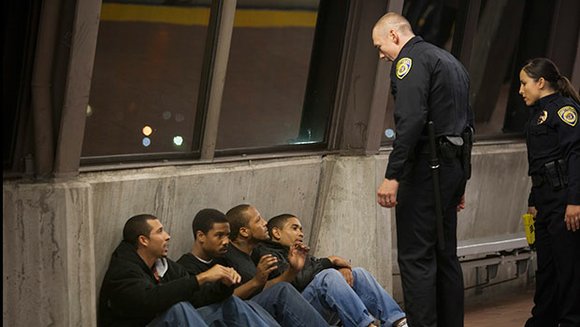 Did you meet with his mother or any of Oscar's friends and family members in preparing for this role?
Yes, I spent time with his mother, his daughter, his girlfriend, Sophina, and his best friends. So, I got a chance to get to know Oscar a little bit better and to understand each of their relationships with him. It was very beneficial to the film.
Is there anything the family wanted people to know about Oscar?
That he was a person, a flawed human being who made some mistakes just like anybody else.
Did you identify with this character at all, given how often young black males are subjected to profile stops and police brutality?
Yeah, I'm from Newark, N. J., so I've been in that sort of situation before. I could relate, since I used to catch the train back and forth between Newark and Manhattan all the time. It could just as easily have been me, or somebody else with a group of friends going to the city who might have gotten a little rowdy. Oscar was a product of his community. The problem is that people from outside of that community can be quick to judge us based on the way we look, talk and dress.
How was it being directed by Ryan Coogler?
He's an incredible director, extremely talented and a natural born leader. And he was the ideal coach for me, because we're so close in age. We speak the same language, being from the same generation. The story meant a lot to him because he's from the Bay Area. He's very close to this project. Everything worked out. It was a perfect storm.
What was it like acting opposite an Oscar-winner in Octavia Spencer?
That ain't bad, either. Not too shabby. I learned a lot from her. She's one of the most giving actresses I know in terms of getting you there. Whatever you need, she's very selfless, no ego, and I think it shows.
What message do you think people will take away from the film?
I hope people feel angry, upset, or something that sparks a conversation about how we can be better people. A better father … a better brother … a better mom … a better sister … We have to start with the individual. So, I want people to leave the theater and think, "How can I be a better person?" That's the only way things are going to improve. It may not happen in my lifetime, but if I can play a part in moving things along, then I feel I've done a good job.
When was the last time you had a good laugh?
Scaring my little brother who is deathly afraid of birds. It's ridiculous because he's 6'7" and weighs 290 pounds. But he hates birds. If you really want to have a good laugh, all you have to do is send him pictures of geese, ducks and stuff like that randomly. His responses are pretty funny and make me laugh out loud.

What are your favorite dishes to cook?
My grilled lamb chops and homemade mashed potatoes. And my barbequed salmon, that's pretty good, too. I love cooking! The first dish I ever learned to make was rainbow trout with couscous and raisins. It's pretty incredible. I can cook that with my eyes closed now.
What excites you?
Being around like-minded creative people. Watching a really good movie excites me, because it makes we want to get up off the couch and go shoot something and act in a scene. And music excites me because it puts me in a mind state, whatever that may be.
When you look in the mirror, what do you see?
A man trying to figure it all out.
What was your best career decision?
Doing the movie Chronicle.