Youth basketball program promotes academics, teamwork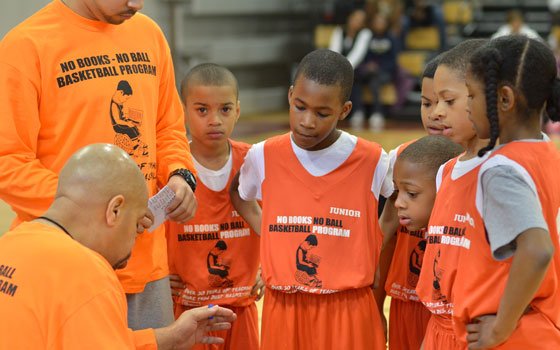 The fun and joy younger players have is something they can't keep secret. They often convince their friends and family to join by the next season.
"This is my seventh year in the program and it's just fun and competitive. We get to hang out with each other as friends and it keeps us safe," said Taneja Drayton, 13, of Dorchester.
"My favorite part about coming is playing with my friends, playing teamwork and hustling," said Aaron Cooley, 10, of Roxbury.
Parents couldn't be more pleased with how the program is run and the reactions their children have to it. Many notice a difference in them when Saturday rolls around.
"This is [Jack's] first year playing, but he enjoys the kids and he enjoys the competition. It's a nice atmosphere, a nice community and a nice group of people. We're enjoying it," said John Terzian, 56, of Westwood.
Keith and Robin Marion's 11 year-old son Mason has been playing in "No Books No Ball" since he was 6.
"We signed [our son] up because we are from the community," said Keith Marion of Dorchester. "I've had an opportunity to get a lot from the Shelburne as well, and they do an excellent job of giving back to the kids and really coaching them the fundamentals as well as giving them positive role models. It's not just a basketball thing; it's more of a community thing,"
Before getting into game mode, the first five weeks are spent conditioning and teaching fundamental skills like dribbling, defending and shooting. The players are then broken down into divisions by age and assigned coaches, and participate in team practices during the week before facing the other teams in their division.
"At the end of the season, six players — one boy and one girl from each of the divisions — receive awards and special recognition as our best student athletes," Richards said. Everyone gets a trophy for their hard work and effort all season long, too.
At first, Richards had help from brother-in-law Vance Mills and a "body of family members" to get things started. Today he has support from hundreds of families, former participants and the community. At day's end the most fulfilling aspect of it all are the success stories he receives. They make it all worthwhile.
"To see those kids that have benefited from the program and know how much of an impact a lot of the coaches have had in their lives are the success stories," said Richards. "When you see a kid whose life you know you touched that may have not had the structure in his home … [it's]  a reward."