Obama invokes legacies of King, Lincoln at 2nd inauguration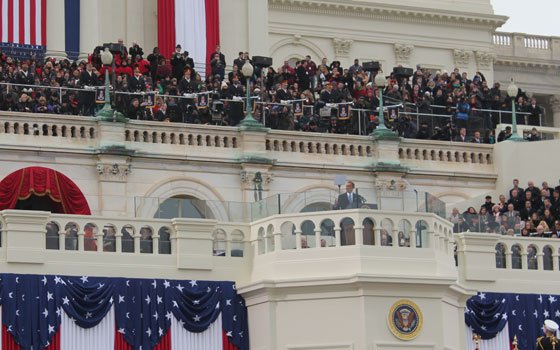 "I think the president appealed to everyone," Culpepper said. "He wants everyone to be involved, and today he gave everyone an invitation for a new beginning. Now we'll have to see whether everyone accepts his invitation."
Culpepper also noted that "the struggles on Capitol Hill are a lot clearer than they were the first time," and thinks the president will continue to push ahead, even if his political opponents don't accept his "invitation."
An estimated 700,000 people gathered on the National Mall in Washington, D.C. to witness the inauguration ceremony, which also featured Myrlie Evers-Williams, the widow of the slain civil rights leader Medger Evers; Richard Blanco, the first Latino and openly gay inaugural poet; and singers Beyoncé Knowles, Kelly Clarkson and James Taylor. While the crowd stretched from the Capitol Building all the way to the Washington monument, it was far smaller than the record-breaking 1.8 million who attended Obama's historic inauguration in 2009.
But those who showed up did so with pride. Many waited up to five hours in 30-degree weather to witness the ceremony, while others were decked out in shirts, jackets, hats, scarves and pins bearing the president's image.
Dorchester resident Debbie Chambers was one of those in the crowd — after spending nine hours on a bus from Boston to Washington — and said that even though this inauguration was smaller than in 2009, it was "even better" and the "spirit was even more powerful." Calling the coincidence of inauguration with Martin Luther King, Jr. Day something "only God could have put together," Chambers said she believes Dr. King's dream is still alive today. "And it's not because we have an African American president," she said. "It's because we have a country that was willing to put into office a man of color."
Robin Saunders, another Dorchester resident, organized a bus trip that brought 43 Bostonians to the inauguration.
"Obviously the first black president to be re-elected is an historic event, and I'll probably never see it again in my lifetime," she said. "Martin Luther King Day was another reason I was like, 'Yes, I have to be there.' If it had been a Republican president, they probably would have cancelled it. I don't think it would have happened."
Chambers echoed these sentiments: "I never thought I would see a president who was African American in my lifetime. It was very important for me to witness it not just the first time, but the second time — I needed to be part of that history."
And Chambers hopes this won't be the last time she witnesses history. "I'll be there when we have the first woman president as well," she said. "It's not just about color."