MFA exhibit traces life, artistic legacy of Loïs Mailou Jones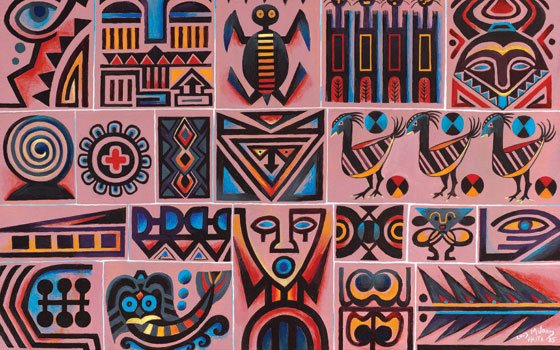 Contemplative but animated, her watercolor and pencil drawing, "Portrait of Céline Tabary" (1940) is a luminous rendering that frames Tabary's delicate face with her jaunty hat, wide lapels and the paintings behind her.
The exhibition's fourth section, entitled "Further Travels," shows how visits to Haiti and Africa transformed Jones's paintings, injecting bolder color and a return to pared-down, sculpted forms.
In 1953, Jones married Haitian graphic artist Louis Vergniaud Pierre-Noël and together, they often frequented the island. She absorbed its lively palette and its spiritual icons rooted in Africa. In 1970, traveling on a Howard research grant, Jones made the first of four trips to Africa. Like so many other Western artists in the 20th century, Jones drew from its masks, sculptured forms and cultural symbols.
In her most abstract painting on view, "Glyphs" (1985), based on African hieroglyphics, striped birds with saucy tail feathers are kindred in spirit to Josephine Baker's costumes.
  Her acrylic and collage tribute "La Baker" (1977) reigns in the gallery. The riveting image sets Baker, her fellow pioneer, within her own self-made iconography as well as African and Afro-American imagery. Delicate tufts of handmade paper evoke the dancer's jaunty feathered skirts. The sleek, minimalist rendering of her body, in brown and white, conveys unbridled joy that transcends race.
Another of the show's most arresting works is the latest on view, an illustration from her 1996 collaboration with the first president of Senegal, "The Poems of Léopold Sedar with Silkscreens by Loïs Mailou Jones." Displayed in a glass case, the large book is open to his poem, "À New York," an ode to the city's verve. Like heirs of Baker, chorines in white feather headdresses and tutus move to a jazz band. Jones surrounds her ebony figures of dancers and musicians with a fuchsia backdrop with a green palm tree.
The composition is an angular convergence of line and color brimming with life. Here was Jones, at age 91, two years before her death, still experimenting, and still rendering the richness of her colorful life. 
LECTURE: Loïs Mailou Jones as Pioneer and Friend
Wednesday, Feb. 20, 7 p.m.
Remis Auditorium, Museum of Fine Arts, 465 Huntington Ave., Boston
Tickets: $10 for members, seniors, students; $13 for non-members
Edmund Barry Gaither, Director of the Museum of the National Center of Afro-American Artists in Boston, in a conversation with exhibition curator Elliot Bostwick Davis, will reflect on his friendship with Jones and discuss her role as a pioneering 20th-century artist and teacher. Gaither and Davis will expand the discussion to the artist's place in the broader context of American art, exploring how her style influenced many during the Harlem Renaissance and beyond.