MFA exhibit traces life, artistic legacy of Loïs Mailou Jones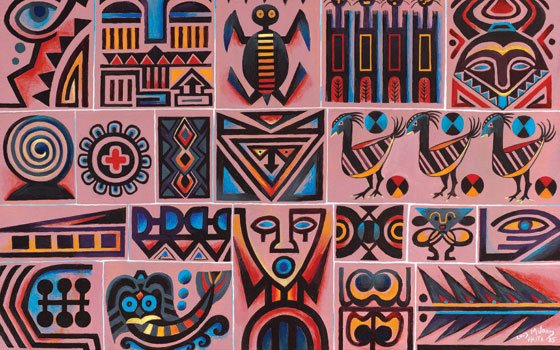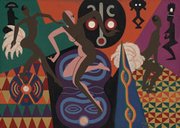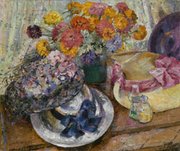 Born and raised in Boston, Loïs Mailou Jones (1905 – 1998) overcame obstacles she faced as a woman and an African American to become an artist recognized as an individual rather than an exemplar of her gender or race. During her distinguished 70-year career, Jones created a body of work that ceaselessly incorporated what she learned and experienced along the way.
Her paintings draw the eye with their warm colors, strong design elements and African American motifs. Although some would look at home in a show with early 20th century Modernists, her paintings are seldom entirely abstract. You can detect the presence of the artist and her lived experience.
Building from her classical education in the fine arts at the School of the Museum of Fine Arts, Boston, where she majored in textile design and graduated with honors in 1927, Jones wove the myriad threads of her teaching and art-making into a rich and unique body of work.
"Being basically a designer," Jones said to fellow African American artist Romare Bearden, "I am always weaving together my research and my feelings — taking from textiles, carvings, and color — to press on canvas what I see and feel. As a painter, I am very dependent on design."  
 A compact and alluring survey of her art and life entitled "Loïs Mailou Jones," is on view at the Museum Of Fine Arts, Boston, through Oct. 14, 2013. Installed in the Bernard and Barbara Stern Shapiro Gallery on the second floor of the Art of the Americas Wing, the mini-retrospective presents nearly 30 works in various media and styles. The show presents the MFA's entire collection of 21 paintings and drawings and illustrated books, as well as her illustrated books and works on paper lent by the Museum of the National Center of Afro-American Artists in Roxbury.  
"Jones is a major 20th century artist," says Elliot Bostwick Davis, John Moors Cabot Chair of the Art of the Americas Department. "This mini-retrospective gives a sense of her career unfolding, her muses and what it takes to develop a voice."
Jones regarded the MFA as her home, notes Davis. In 2005 and 2006, Jones bequeathed eight paintings and eight works on paper to the MFA through the Loïs Mailou Jones/Pierre-Noël Trust and established a scholarship at the Museum School. The artist's bequest has been a catalyst, observes Davis, who oversaw the recent expansion of the MFA's works by African American artists to nearly 450 objects, among the largest such holdings by any museum in the U.S.  
Jones was encouraged to achieve by her parents, Carolyn Dorinda Adams Jones, a cosmetologist and milliner, and Thomas Vreeland Jones, the first African American graduate of Suffolk Law School. Jones found mentors both at the MFA and among the African American intellectuals who frequented Martha's Vineyard, where her family had a summer home.
Driven to make a name for herself, Jones turned obstacles into opportunities.  
Well into her first year as a successful freelance textile designer, Jones spotted her work on display in an interior decorator's shop. When she introduced herself as the artist, the proprietor said, "How could you have done that? You're a colored girl."