Glover's 'SoLe Sanctuary' honors artistic ancestors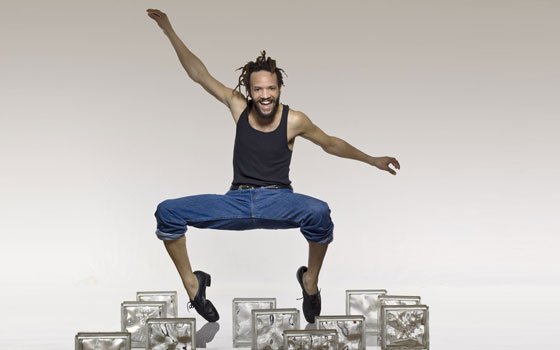 After a long solo in which his feet, legs and arms moved to inner promptings, Glover was joined by Davis. With trim gray hair and everyday attire — a dark shirt and pants — Davis stepped up to the platform with a low-key, workmanlike air. The two entered a dialogue, first mirroring each other and then trading roles, one delivering the bass line to the other's solos.
In contrast to Glover's expansiveness, Davis seemed to be holding himself in check, maintaining the ferocious drilling pace with his legs and feet while bending low like a wounded man.
As they joyfully challenged each other and switched roles, one improvising while the other was his metronome, Davis escalated in fervor. Around a spine of rhythm, they generated spirals of textured sounds, gliding on currents of improvisation.
Shifting in and out of unison, at one point the two locked into a rapid-fire sequence of rippling legs and feet, their limbs moving as one. Slowly, Davis let the rippling climb up his whole body, his legs and torso vibrating in an astonishing moment of self-transfiguration.  
Throughout his solos and duets, no matter how intense, Glover maintained a playful spirit. Smiling in ecstasy, he kicked up his heels and burst into song while sweat glistened on his neck and the powder on the platform rose like smoke from his feet.
Providing his own percussive backbeat, Glover delivered warm renderings of phrases from '40s standards including "Give Me the Simple Life" and "There Will Never Be Another You." He wordlessly chanted a passage of John Coltrane's "A Love Supreme" as he spun his own rhythmic threads around Coltrane's jazz psalm, which played low in the background.
As the evening came to a close, Glover gave a silent salute to his mentors. He nodded to the portraits above him and the curtain fell.