Arts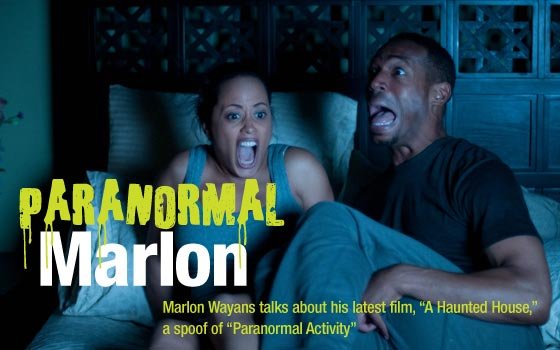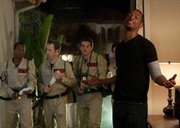 Marlon Wayans on the set of his new film, "A Haunted House."
Multi-talented Marlon Wayans graduated from the prestigious High School of Performing Arts in New York and Howard University's Film School. He is best known for getting his start in Hollywood as a cast member of the Emmy Award-winning comedy series, "In Living Color." Marlon then went on to create, executive produce and star in The Wayans Bros. on the WB.
Together with brothers Keenen and Shawn Wayans and producer Rick Alvarez, he formed the successful production company Wayans Brothers Entertainment. Some of his noteworthy credits include "The Ladykillers," directed by the Coen Brothers; the record-breaking "Scary Movie" and "Scary Movie 2," "White Chicks," "Norbit" and "Dance Flick."
Marlon's compelling dramatic performance as a drug addict in Darren Aronofsky's "Requiem for a Dream" proved he could do more than comedy. Most recently, Marlon was seen starring opposite Channing Tatum in the box-office smash, "G.I. Joe: The Rise of Cobra."
Next, he will play the title role in Sony Pictures' "Richard Pryor: Is It Something I Said?" Marlon will also star in the upcoming Harmony Korine film "Twinkle, Twinkle."
Marlon continues to publish books under the 101 Ways title including 101 Ways to Know You're a Golddigger, 101 Ways You Know It's Time to Get Out Of Your Mama's House and 101 Ways to Know You're Having a Ghetto Christmas.
Where did you find the inspiration to write this film?  
I was watching "Paranormal Activity" 1 and ["Paranormal Activity"] 2, which were very successful hits at the box office, and I just thought to myself, "If I want to do a movie, how am I going to approach this?"
Then, I had this epiphany that, "Damn, white people do a lot of stupid stuff in these movies." Wouldn't it be funny if a lot of paranormal activity happened to a black couple?
Now, how do I keep them in the house longer than five minutes? That became the comic premise for the movie. From there, it just snowballed into a bunch of jokes. So, I got together with Rick Alvarez, my producing partner, and we decided to write it together.
Are you the only Wayans in this film?
Yeah.  
That must be a first. How do you explain that? We're used to seeing multiple Wayans in a Wayans production.
Nobody loves me. [Chuckles] No, everybody wanted me to do this one by myself, and I wanted to do it by myself. So, this is sorta like my first solo album. I didn't pull any tricks out of my hat, and just went with the natural flow of the film.
What audience are you trying to attract? The same crowd that went to see "Scary Movie"?
Not just them. They're older now. I really want to hit the next generation of kids, the YouTube Generation. And also women, because it's a relationship movie with romantic elements. I think anybody who wants to laugh is the intended audience.