Warren promises to 'never stop fighting'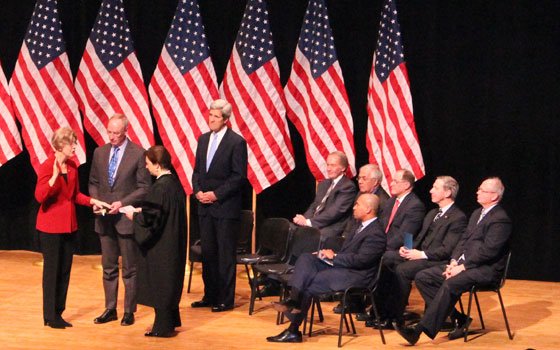 Looking back on the returns from Election Night, 2012, it's clear that Roxbury feels likewise about Warren, as it helped her to achieve her victory over incumbent Scott Brown during what was, at times, a bruising and exacting race filled with below-the-belt politics. 
In the final tallies, Warren defeated Brown 54 percent to 46 percent across the state, but Boston carried her in a landslide – 74 to 26 percent.
In a continuation of that support, the crowd attending the event grew large enough to require event planners to utilize another space to accommodate the overflow.
It was, said interim RCC President Linda Edmonds Turner, a welcome "problem" to have.
"It was a wonderful program," said Turner. "By holding her ceremony here at RCC, Senator Warren was able to reach out to not just the college, but to the entire community of Roxbury — everyday people, folks from all walks of life. And, it was great that she acknowledged that many of her supporters were from Roxbury and other communities that are not necessarily high-income, but very important nonetheless."
By Turner's account, that Warren chose Roxbury and RCC as the location for her event was significant in and of itself. But, the fact that she stayed on campus long after the ceremony's conclusion, taking photographs and talking with visitors until the last person in line was able to meet her, bodes well for her future in office and for that of the community.
"She'll do very well," Turner said. "You could just see how proud everyone was that she came back and how happy she was to be here. She was here before the event started at one o'clock and she stayed after the event until five-thirty, six o'clock talking and taking pictures with everyone."
One knowledgeable supporter spoke enthusiastically about the potential impact that Warren could have on community colleges and the community as a whole.  
"The significance of Senator Warren's choice of location for her event is huge," said Richard Freeland, Massachusetts Commissioner of Higher Education. "It represents a clear recognition of Roxbury Community College as a major educational institution. It's also significant that the first female senator from Massachusetts chose RCC, because it represents a commitment to diversity in all of its dimensions and a commitment to advancing that diversity. She is going to be a first-class representative for Massachusetts, and for the citizens of Roxbury."