Jubilee concert celebrates 150 years of freedom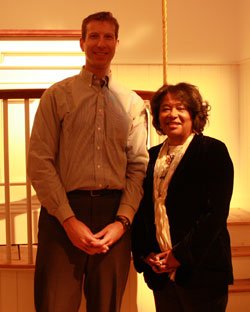 When the massive crowd received the news, the Handel and Haydn Society, also present that day in 1863, sang Handel's "Hallelujah" chorus, one of three selections featured during the First Night Jubilee Day Concert.
Welch encouraged attendees to share the news of Jubilee Day on social media, with friends and by any other means possible.
"Today is special," said Ira Pedlikin, director of artistic planning and education for the Handel and Haydn Society. "As the Society also performed that day, we dug deeper into the first Jubilee Day in Boston to ensure what we presented today was historically accurate."
The concert closed with a performance from the smooth baritone voice of Michaels, who sang "The Battle Hymn of the Republic."
Applause roared from the main floor to the balcony seats and attendees buzzed with excitement as they made their way out into the chilly weather.
In the quiet of the empty Meeting House, Welch later explained that she had spoken with many First Night attendees who had never heard of Jubilee Day until then.
She hopes that in learning about and celebrating Jubilee Day and the battles fought to end slavery, others will show fearlessness in the face of troubles they struggle with in today's world.
"If you can come here and feel nothing else at all, feel inspired," she said.