Visual surprises, emotional truths in ART's "Menagerie"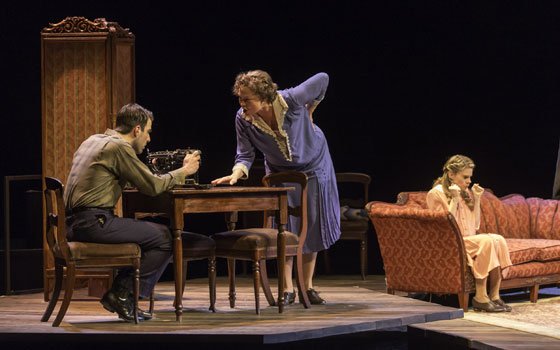 Her defenses against an unbearable reality are her fierce resourcefulness, jonquil-scented memories and a nonstop barrage of words, including her oft-told tale of entertaining 17 "gentleman callers" in a single day.
She nags Tom to sit up straight, chew his food, stop smoking and above all, to bring home a gentleman caller for Laura.
Zachary Quinto is a convincing Tom Wingfield, despite an overly broad Southern accent. Quinto conveys both his character's rage and sardonic humor. He also has a light touch as he teasingly lets his mother know that indeed, a gentleman caller is coming.
Although she is as fragile as her glass figurines, Laura Wingfield, like her brother, sees things as they are. Celia Keenan-Bolger is compelling as a delicate but sturdily self-contained Laura. She quietly holds her own against her volcanic mother.
Also ideally cast is Brian J. Smith as the Gentleman Caller. He exudes the wholesome charm of a young man on good terms with life. He and Keenan-Bolger achieve real chemistry when they are alone together. Laura undergoes a poignant transformation as she relaxes with the Gentleman Caller.
Yet happiness is fleeting in the Wingfield household, where, says Tom, the Gentleman Caller represents "the long-delayed but always expected something that we live for."