in the Mix
2/20/2013, 7:46 a.m.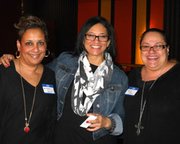 Livin' the fab life…
Move over boys, there's a new radio station in town, and it's called Hot 96.9FM. And one of the best things about it is it's being helmed by the one and only, Pebbles. She recently joined the station after being a staple part of JAM'N 94.5. To celebrate the launch of her new morning show, the station held a "ladies night" with the advance movie screening of "Safe Haven." Attendees were fêted with appetizers and cocktails before the screening in the fabulous Lux Level of the Showcase Cinema at Legacy Place, with complimentary popcorn waiting for each guest at plush seats. And after the film, the audience received a box of chocolates in anticipation of Valentine's Day. The night couldn't have been any sweeter.  
For all my foodies…
The Blue Room is tucked away in a beautiful brick building a stone's throw away from the Kendall Square Cinema. Frequented by both locals and students alike, its brunch was packed. There was a huge array of food for brunch, but I kept it simple with a very filling helping of buttermilk pancakes, warm maple syrup and butter accompanied by a side of crispy bacon. And brunch wouldn't be complete without sampling the homemade chocolate chip cookies. The brunch was reasonably priced, the service was great and the whole vibe was just relaxing and cool. Definitely a neighborhood spot that's open to all those who enjoy and appreciate good food, a warm ambience and a good time.
Next up, is the OAK Long Bar + Kitchen (formerly the Oak Bar) in the Fairmont Copley Plaza Hotel. If you never got a chance to go to The Oak Bar, it was very traditional and masculine. Now, the dark wood and furniture have been replaced by warm tones of bronze and cream, with an impressive coppertop bar accompanied by soft, high back leather bar stools in the center of the restaurant. The OAK Long Bar now has a wonderful lightness to it, complemented by the high ceilings. It's a mix of classic design melded with a modern and hip aesthetic, and was buzzing with people, music and lots of conversation. The OAK Long Bar and Kitchen is definitely a place to see and be seen.
The Reserve is the champagne lounge in the lobby of The Langham. The lobby lounge features a light and airy design with warm tones of cream, gold and brown and soft lighting. It is a bit formal, but not stuffy in feel. Their special called "The Reserve" features a choice of soup or salad with an entrée, side and beverage. I began with the New England clam chowder (which was really good), followed by the most amazing Grilled Shrimp Tacos that I have had and the house-made potato chips. Dessert was also made in-house. It was a delicate French Macaroon with a raspberry cream in the center. What a perfect treat! As they say, The Langham Hotel is "an ideal haven in which to sip, savor and socialize."