'That relentless spirit'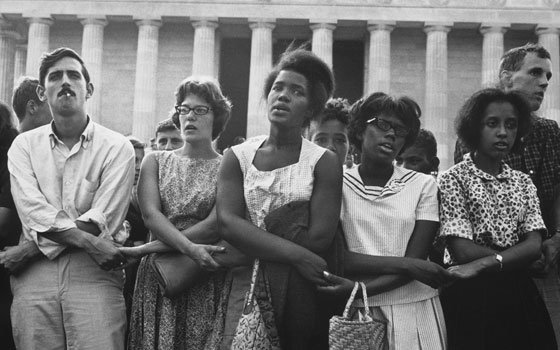 After the March on Washington, Freed continued to capture African American life with his camera. He followed Dr. King around the country, taking pictures of the civil rights leader in Baltimore, Alabama and other places where he spoke. Freed also photographed the daily lives of ordinary African Americans at protests, parades, beauty pageants and prisons — and this work was eventually published in 1968 as the photographic essay, "Black in White America."
In 1983, Freed returned to the National Mall to photograph the commemorative 20th anniversary March. Unlike Freed's work from 20 years ago, King is central to these pictures — his absence is underscored through shots of murals, signs and other paraphernalia bearing his image.
"We get a sense of a call to galvanize around King's image," Farber explained.  
When Freed died in 2006, his widow, Brigitte, dedicated herself to promoting her husband's work. Several years later, she heard President Barack Obama say, "I'm here because you all marched," and came up with the idea for "This is the Day," a collection of all her husband's photographs from the March on Washington — and the twentieth anniversary march — in a single book.  
"Leonard Freed, both in 1963 and in 1983, has captured that resistance, that relentless spirit, that edifying power that can never be put out by the forces of men and women who fail to see the light," said Dyson. "He documented with aesthetic glory the beautiful calm dignity and wise purpose of human beings when they are in search of freedom."