A Roxbury standard: The Original H-Block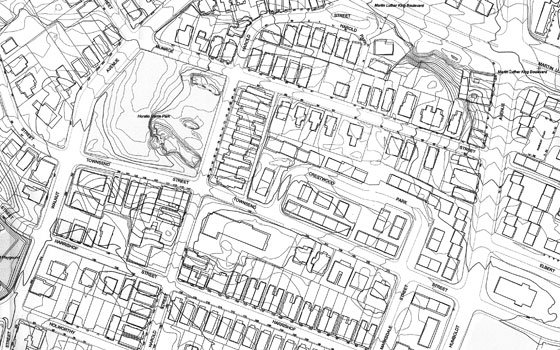 This map shows the area around Munroe Park that includes Harold, Harrishof and Holworthy Streets and Humboldt Avenue.
Matthew Bullock, Dartmouth College class of 1904. (Photo courtesy of Dartmouth College Library)
H. Carl McCall, the first black to win statewide office in New York when he became State Comptroller in 1993. (Banner Archives photo)
Valedictorian of her high school class, Melnea Cass overcame racial barriers and became one of Boston's foremost community activists. "If we cannot do great things," she frequently said, "we can do small things in a great way."  (Photo courtesy of ABCD)
Modern-day history has largely forgotten about men like Matthew W. Bullock.
He lived in Roxbury, near what is now known as Munroe Park. More than anyone else, he set the tone of conspicuous achievement in a neighborhood filled with high achievers.
Melnea Cass was one of them. Valedictorian of her high school class, Cass eventually moved to the same neighborhood as Bullock — and promptly became one of Boston's most prominent community leaders.
Back in the early decades of the 20th century, back when she was in her late teens and early 20s, she couldn't find good work downtown. It wasn't right, but she worked anyway — as a domestic servant.
"You could always make a living," Cass told an interviewer. "But it wasn't always what you wanted to do."
She lived in Upper Roxbury.
On Harold Street.
Not too far away were the Snowdens. Given the racial tenor of early 20th century America, their story is nothing short of incredible.
It starts with Frank Snowden Sr., "the Colonel," a spit-and-polish man who served in the segregated military during the days of World War II.
No telling what the Colonel would say about his old neighborhood, a place where he raised his two sons — one of whom would become a renowned scholar on Africans in ancient Greece and Rome, the other a founder of  "Freedom House," one of Boston's foremost community organizations.
No telling how the Colonel would react to police and media reports that his neighborhood is now called "H-Block" by reputed gang members, and that the streets he once walked are now dotted with makeshift memorials to slain youth.
In the Colonel's generation, the fight was about academic achievement — not mindless, often bloody, turf battles.
That message of intellectual strength was passed down to his grandson and granddaughter.
"I was very afraid to do anything that would reflect badly," Frank Snowden III told the Washington Post, recounting his experience in 1964 as the first black to attend St. Albans, an esteemed prep school in Washington, D.C. "I was imbued with the fact that it was just not my story but a collective endeavor."