A Roxbury standard: The Original H-Block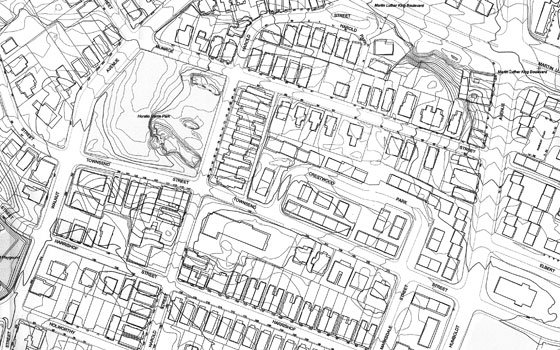 Ruth Ellen took a different tack. After attending Barnard College and Harvard Law School, she became the first black woman to become a partner in one of Boston's prestigious law firms. She is now CEO of Dimock Community Health Center in Roxbury, the place where many of the neighborhood kids were born. The
It was a different time in the 1940s, and blacks in Boston were affected by international events. The fight for freedom against Nazism in Europe dominated life back in the states. Gas rationing was a part of life, as were recycling and civil defense drills.
More important for African Americans, as the Black Press dutifully reported, World War II was also a battle back home, particularly in the segregated military.
Unlike the First World War, "now the Negro is showing a 'democratic upsurge rebellion,' bordering on open hostility," the Amsterdam-Star News reported.
In May 1941, A. Phillip Randolph called for 100,000 African Americans to march on Washington to protest racial discrimination in the armed forces and war industries.
It was part of the "Double V" campaign launched by the Pittsburgh Courier to insure victory against racism abroad and at home.
In June 1941, Roscoe Dunjee, editor of the Oklahoma Black Dispatch, challenged the American government to come up with something more original than the idea that African Americans were supposed to fight Hitler's army with only "a mop and a broom."
"If the March on Washington does nothing else," the Chicago Defender asserted, "it will convince white America that the American black man has decided henceforth and forever to abandon the timid role of Uncle Tom-ism in his struggle for social justice, no matter what the sacrifice. On to Washington."
In her book Eyes Off the Prize: The United Nations and the African American Struggle for Human Rights, 1944-1955, Carol Anderson described the clear picture of discrimination painted by the NAACP.
"As late as the summer of 1942," the civil rights organization reported, "only 3 percent of the people working in war industries were colored. Only when there was virtually no one else to hire and almost every other labor source was exhausted" were African Americans even considered.
As a result, of the 29,215 defense contract employees in the New York area, "only 142 were Negroes." In St. Louis, with a population of more than 100,000 African Americans, 56 defense factories "employed an average of three Negroes" each.
But not all the news was negative.
On June 25, 1941, President Franklin Delano Roosevelt signed Executive Order No. 8802, forbidding racial and religious discrimination in war industries, government training programs and government industries. Six months later, black pilots were training in Tuskegee for the first Army Air Corps Pursuit Squadron — the Tuskegee Airmen.
And for the first time, the New York Times reported in May 1941, a 12-month period passed without a lynching in the Deep South. That had not happened since 1882.
Matthew Bullock knew first hand about lynchings and the Ku Klux Klan. He was born on Sept. 11, 1881.