A conversation with "Beasts of the Southern Wild" director Benh Zeitlin
2/6/2013, 10:34 a.m.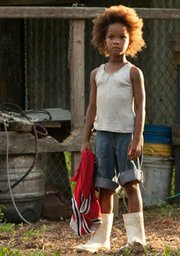 "Beasts of the Southern Wild" is an incredible whirlwind of a movie about loss, hope and resilience all reflected in a 6-year-old force of nature named Hushpuppy (Quvenzhané Wallis), who lives with her tough but loving father Wink (Dwight Henry) in an isolated bayou community in Louisiana. When Wink succumbs to a mysterious illness, the fierce and determined girl is forced to search for help for her ailing father outside the comfort and familiarity of the "Bathtub." But Hushpuppy's search is hindered by a hurricane threatening all who live in the remote isle of the "Bathtub."
The film gained huge buzz and the 30-year-old director Benh Zeitlin has been nominated for several Oscars including "Best Picture," "Best Director" and "Best Writing for Adapted Screenplay." He has already won The Grand Jury Prize, the Excellence in Cinematography Award at the Sundance Film Festival and the Camera d'Or award at the Cannes Film Festival.
Here is what he had to say on casting newcomers Dwight Henry and Quvenzhané Wallis (who was also nominated this year for Best Actress in a Leading Role), and his love of Louisiana.
What was it about Dwight [Henry] that made you believe he was the one for this part?
He was the only non-professional actor we ever considered for the role. I didn't think it could be done by a non-professional. The key with him was that character is so violent sometimes and is so difficult to like. He goes so far in the way that he treats her that all the actors we tried out for the role just became monstrous and it was hard to relate to them. And Dwight is such a good guy. He's such a warmhearted person and a good man. You sort of sense that in him. I felt that even when he would go to the furthest extremes of brutality with her you would always kind of feel that there was some sort of foundation of affection. That somehow his harshness came from a place of trying to train her, of teaching her to survive. He managed to hold us even in his harshest moments and that's definitely hard to pull off. It comes from who he is.
Did you need to have an acting coach work with him?
In a way he kind of strengthened that part of the character. The character is really a collaboration between the two of us. We had something written and he brought himself to the role. There were scenes that I had written where I would say "Wink is not thinking about Hushpuppy right now…." and Dwight would read those scenes and would say "I would be thinking more about my daughter's welfare." We actually wrote that more into the part based on his experience. It's something that is in him and I don't think he can act his way out of it. That's part of the advantage of working with someone that isn't a trained actor. You'll completely transform. They keep some essence of themselves. And we tried to cast someone whose essence related to the character.