Boston Fair Housing Commission documents Hub housing discrimination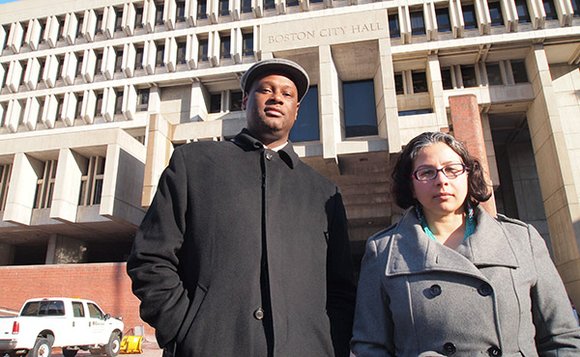 Hispanic renters who contact agents about recently advertised housing units learn about 12 percent fewer available units and are shown roughly 7 percent fewer units.
The study's main conclusion was that blatant acts of housing discrimination faced by minorities seeking homes have declined in the United States, but more subtle forms of housing denial still persist — and that this is a national and not regional trend. It also emphasized that minority renters and homebuyers are told about and shown fewer homes and apartments.
The HUD study was conducted using a "paired testing" approach in which researchers compared the treatment of whites and minorities seeking homes in a nationally representative sample of 28 metropolitan areas, including Boston. Of the more than 8,000 paired tests, two trained individuals (one white and the other black, Latino or Asian), contacted a housing provider to inquire about a unit randomly selected from recently advertised homes and apartments.
Irish says that his findings in Boston also reflect the trend that housing discrimination is no longer blatant but more subtle, often through advertising, and now most commonly on the Internet. He explained that his office will typically see ads that use code words such as "professionals" to try and discourage families from pursuing the housing. While this may seem like a small thing, this kind of practice is still housing discrimination under the law, he pointed out.
City Councilor Charles Yancey supports Boston's Fair Housing Commissions efforts to do more to probe housing discrimination in Boston.
"Given the very clear pattern of segregated housing in the city of Boston, as indicated by the 2010 Census, they should be actively testing for discrimination," he commented.
According to the most recent numbers from HUD, Boston had 42 cases filed for housing discrimination in fiscal year 2012, 50 in 2013 and seven so far in 2014. A majority of these cases are filed under the "disability" or "familial status" category, but 16 were filed under the "race," "color" or "national origin" categories in 2012; 19 under these categories in 2013; and two in these categories in 2014.
Over this period of data, the cases completed in Boston are slightly higher than the total cases filed in 2012 and so far in 2014, and slightly under the total cases filed in 2013. The cases found to have "cause" and the cases found to have "no cause" are just about even for all years.
In fiscal year 2012, Boston cases were paid $249,517 in compensation; in 2013 they were paid $585,577; and in 2014 they have been paid $31,390 so far.
Irish said that all the housing discrimination cases found by the Boston Fair Housing Commission testing program so far will be referred for possible
enforcement.