Tibet called 'training ground' for more Chinese expansion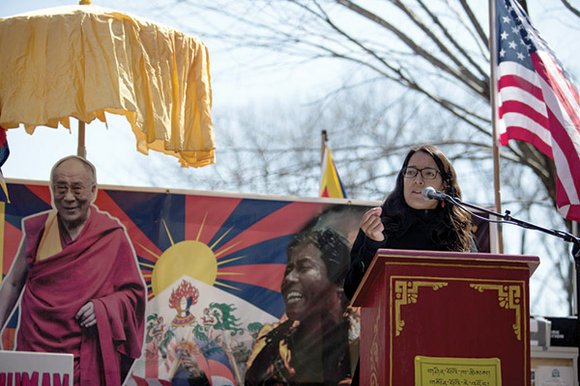 By broadcasting the impact of China's economic policies in the Third World, groups like the Tibet Action Institute hope to build alliances to pressure China into expanding civil liberties and human rights in Tibet.
Raised in Canada, Tethong, 37, became a widely sought commentator in the lead-up to the 2008 Beijing Olympics, as Chinese policies came under increased scrutiny. Passionate and well-informed arguments from the telegenic spokeswoman generated broad sympathy for Tibetans, but the media coverage resulted in little more than symbolic challenges to the powerful People's Republic.
Linking Tibet's struggle to Chinese expansion in Africa has also yielded limited results. China's appetite for raw materials to feed the world's fastest-growing economy is vast and Africa's reception generally welcome, especially when accompanied by generous aid packages, no strings-attached loans and overbidding for equity positions in African companies.
As a result, China now receives as much as 30 percent of its oil imports from Africa, with Angola overtaking Saudi Arabia as China's biggest supplier. China's relations with oppressive regimes in Zimbabwe and Sudan — supplying the Harare and Khartoum governments with military hardware while striking oil and mineral deals — have drawn criticism for helping to prop up so-called pariah states.
Chinese officials insist their interests are value-neutral, deny any violation of local laws and point to the creation of hundreds of thousands of jobs and new economic activity where their companies operate. As for Tibet, China cites an historic claim to the territory dating back at least to the Qing Dynasty, when the 17th century Manchu rulers of China established a protectorate over Tibet.
Tethong, a regular visitor to college campuses and a frequent participant in weekly demonstrations in Harvard Square by Tibetan activists, dismisses such claims, pointing to unique aspects of Tibetan language and culture that clearly set them apart as a separate polity with a legitimate right to at least greater autonomy if not independence.
The rising incidence of self-immolation by nomadic Tibetans, coerced to trade the open skies and yak herds of their traditional existence for life in cement apartment blocks, symbolizes the cultural genocide now occurring in her homeland, she says.
"Over the last three years, there have been at least 122 of these acts. The story of self-immolation is the story of Chinese oppression," says Tethong. Nomadic Tibetans, along with members of the middle class and monks, are setting themselves afire in marketplaces and at monastery gates as acts of protest, "to give their lives for a higher purpose."
In one note left at the scene of an immolation, an impoverished herder wrote, "I am poor. I am uneducated. All I have to offer is my body."
The resettlement activities make it easier for Chinese companies to go after some $600 billion in extractable copper discovered in the high Tibetan plain and to control the waters that rise in the Himalayas and feed the largest rivers in China and Southeast Asia, says Tethong.
"At a minimum, we need to keep the spotlight on Tibet," she says. "This is a fight for resources that goes far beyond Tibet. If we remain vigilant, the tide will change. It's just like South Africa. It's a freedom struggle."