Union boss at center of efforts to reform Mass. economy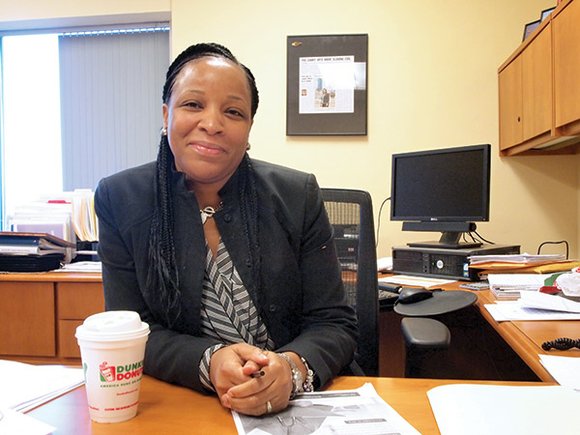 Back in 1996, Veronica Turner was a rank-and-file member of the Service Employees International Union 285, working as a data coordinator at Boston City Hospital.
Then came word that the hospital was going to merge with the Boston University Medical Center. Suddenly jobs, benefits, seniority and pay rates were all on the line. Turner became a union delegate and found herself vocally advocating for her fellow workers.
The union's advocacy paid off.
"Mayor Menino was instrumental in making sure nobody lost their jobs," Turner said. "Folks went into the merged entity with their seniority and benefits."
In addition to keeping her job, Turner cemented her reputation as a tireless organizer, advocate and negotiator qualities that have helped her rise to the top of her union. As executive vice president of SEIU 1199 Massachusetts, as her local is now called, she represents nearly 50,000 workers in hospitals, nursing homes and home care across the state.
She is the first and only African American woman to head a major labor union in Massachusetts history.
Born in Memphis, Tenn., Turner was raised by her grandmother. When her grandmother became ill, Turner, then a young teen, served as a personal care attendant. During her high school years in the 1980s, Turner moved to Dorchester. She graduated from Madison Park High School, attended Roxbury Community College and finished at UMass Boston.
Elected in 2010, Turner took the reins of 1199 at a time when the disparities between the wealthy and the poor in the United States are at an all-time high. And Turner has been at the center of a state-wide movement to combat the declining incomes and working conditions of low-wage workers in Massachusetts.
A union-funded community coalition, Mass Uniting, is housed in 1199's Dorchester offices. The group's approach — using using union resources to support the initiatives of community-based organizations — reflects an increased emphasis on unions' engagement with the predominantly black, Latino and Asian communities where many of their members live.
"It just makes sense," Turner says. "it shouldn't have taken us this long to realize we need each other."
While 1199 is not the only union investing in the group, it is the largest. Turner's investment in and belief in Mass Uniting has been a major factor in its success, according to Mimi Ramos, executive director of New England United for Justice, a Dorchester-based social justice organization that has worked on campaigns with Mass Uniting.
"Veronica believes in grassroots leadership development," says Ramos. "This is the first time we've had conversations about how do we develop leaders and mobilize people around the Massachusetts economy."
The union-based group was instrumental in collecting the 275,000 signatures submitted to secure a ballot question to raise the minimum wage to $10.50 and mandate earned sick time.
Mass Uniting volunteers are also increasingly influential in the campaigns of successful candidates to office, including Mayor-elect Marty Walsh and U.S. Sen. Elizabeth Warren.
While the community-based organizations in Mass Uniting give the unions a broader reach, there are few unions or organizations in the state that have the raw numbers 1199 has. The union's multitudinous base commands respect in the State House and City Hall.