In the News: Bob Hildreth
12/11/2013, 12:35 p.m.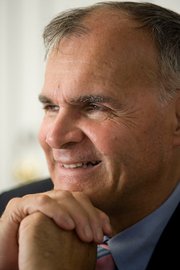 FUEL Education founder Bob Hildreth will be honored as a Social Justice Champion of 2013 by The Chelsea Collaborative.
Each year the Collaborative honors those who work to empower citizens of Chelsea at its Annual Holiday Gala. This year, commemorating the Collaborative's 25th Anniversary, the gala was held on Dec. 5 at the Somerville Holiday Inn. During the event, Hildreth was recognized for the long-term investments he's made in the lives of Chelsea students and their families through his work with the FUEL program.
He founded FUEL in 2009 to help make college a reality for low-income students and their families. FUEL works with community agencies like the Chelsea Collaborative to empower parents to learn about the college process and to save for their children's higher education. This support helps pave the way to higher education and a brighter future for Chelsea families.
"I couldn't be happier to receive this honor from the great folks at the Chelsea Collaborative, who do such incredible work themselves," said Hildreth. "For me and everyone else at FUEL, it's never been about receiving accolades. It's about giving deserving families the tools and the support they need to have a better future than they might have imagined."
"Without FUEL's support and Bob's steadfast commitment, many promising Chelsea children would feel that college was out of their reach," said Gladys Vega, executive director of the Chelsea Collaborative. "We are proud to be part of this initiative, which proves that everyone can take part in the American Dream."
The FUEL program, which currently runs sites in Boston, Chelsea and Lynn, encompasses financial education, curriculum, incentives for savings, and a connection to community organizations that require families to be involved in the college process.