Nelson Mandela: Beloved in Boston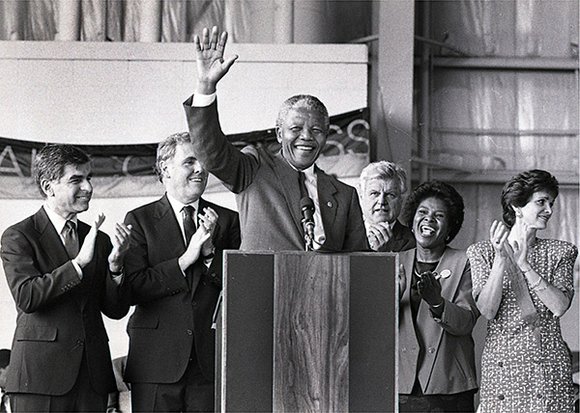 One parallel that went unstated was the pall of racial tension still hanging over Boston in the aftermath of the explosive Charles Stuart murder case. Mandela's appearance came just months after the Newbury Street furrier shot his pregnant wife to death while parked in a Mission Hill housing project and blamed the assault on a fictional black man. The subsequent hunt for the assailant tore at the city's fragile racial fabric.
Mandela's appearance, greeted by people from every race and walk of life, served as a healing moment.
In later events that day, Mandela's reception was equally rapturous. He attended a packed rally at Madison Park High School and received a bust of President John F. Kennedy from members of the Kennedy family at the JFK Library. Mandela joked that he felt "like an honorary Irishman from Soweto."
After his election as president in 1994, Mandela received frequent visitors from Boston and participated in an unusual negotiating session organized by a local professor who brought together Protestant Unionists and Catholic Nationalists from Northern Ireland to discuss reconciliation in the war-torn British province.
Padraig O'Malley, a University of Massachusetts Boston professor, documented how Mandela's strategic wisdom helped map out a path to peace one year before the historic 1998 Good Friday agreement ended the armed conflict.
During his lifetime, Mandela was vilified as a terrorist and a communist. But he was no murderer and never a stooge of Moscow. He was a force of racial liberation and racial reconciliation, rejecting both black and white separatism in favor of a gospel of plurality.
"I have fought against white domination and I have fought against black domination," he said to the court at the time of the trial that ended with a life sentence. "I have cherished the ideal of a democratic and free society in which all persons will live together in harmony with equal opportunities. It is an ideal for which I hope to live for and see realized. But, my lord, if needs be, it is an ideal for which I am prepared to die."