Nelson Mandela: Beloved in Boston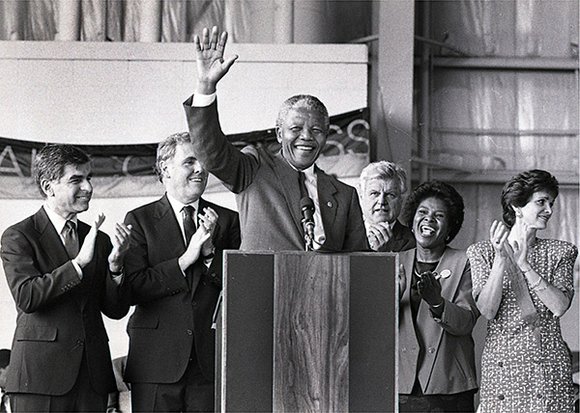 In the mid-1980s, maverick political activist Andrew Jones launched a campaign for the black neighborhoods of Boston to secede and form the new municipality of Mandela in honor of the imprisoned leader. The campaign generated a welcome debate but fell short at the polls. It did, however, leave one indelible mark: The word "Mandela" in white letters running vertically down the brick façade of a re-christened housing development along Washington Street in Lower Roxbury.
Down in Washington, U.S. Sen. Edward M. Kennedy of Massachusetts was the author of the historic Anti-Apartheid Act of 1986, forbidding U.S. companies from doing business in South Africa. The measure was enacted over President Reagan's veto by a vote of 78-21 in the Senate and 313-83 in the House.
Two decades earlier, U.S. Sen. Robert F. Kennedy had travelled to South Africa to directly and very publicly challenge white rule. He sought to meet with Nelson Mandela on Robben Island and was denied. Flying out of Cape Town after delivering his famous "Ripples of Hope" speech, he ordered the pilot to fly over the rocky outcropping and dip the plane's wings in tribute to the imprisoned African National Congress leader.
Kennedy cited the courage of the Robben Island prisoners in a LOOK magazine essay, titled "Suppose God Is Black," published weeks after his return from the apartheid nation.
Boston activists led the campaign to suppress the sales of Krugerrand gold coins from South Africa in the U.S., staging protests in front of the Deak-Perera foreign exchange and precious metals office in Downtown Boston until it shuttered its doors.
When plans for an eight-city U.S. tour were drawn up shortly after Mandela's release, Boston figured high on the list.
A quarter million people showed up on the Esplanade to see Mandela. When he stepped to the podium at the Hatch Shell, the song "Free Nelson Mandela" came blaring over the loudspeakers. Tall and elegant, the white-haired revolutionary in a gray suit and Windsor tie began dancing. The crowd roared its approval and waved flags with the yellow, green and black stripes of the ANC.
Mandela praised Bostonians for their leading role in the anti-apartheid struggle and spoke of a special affinity between the Hub and the ANC.
"Your pioneering role in taking positive measures against apartheid portray the deep feeling of kinship you hold towards our people and the just cause that they are so vigorously fighting for," said the 75-year-old future president. "It was you who rallied around our cause at a time when we had to stand on our own all by ourselves and thus you became the conscience of American society, a treasured beacon within and beyond the boundaries of this great nation."
Mandela also cited the historic parallels in the fight for freedom between South Africa and Boston. "It was here that the Boston Tea Party served notice that the citizens of this country would not live under domination by the British," he said. "And that was the establishment of a fundamental principle which has inspired democracies, democrats, freedom fighters and revolutionaries all over the world."