Mourning an icon: Nelson Mandela dead at 95
Monee Fields-White | 12/11/2013, 12:51 p.m.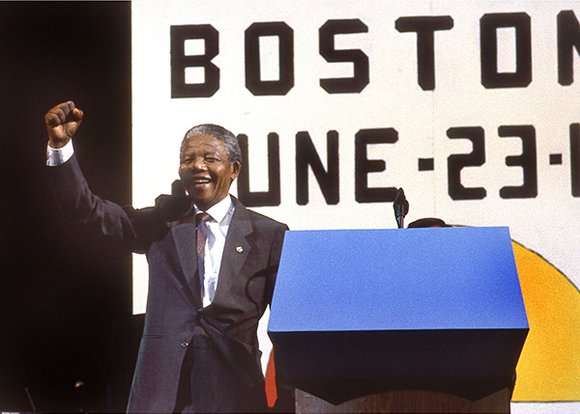 On Feb. 11, 1990, South African political leader Nelson Mandela walked out of a prison after 27 years to fulfill his mission: dismantling the country's apartheid regime. By 1994 the Nobel Prize winner had achieved just that by establishing the first democratic elections in South Africa and becoming its first black president. The towering statesman died last week at the age of 95.
Nelson Rolihlahla Mandela was born on July 18, 1918, in a tiny village in rural South Africa, known as Mvezo. "Rolihlahla" in the Xhosa language means "pulling the branch of a tree," or more commonly refers to "troublemaker." Mandela's mother — Nosekeni Fanny — was the third of his father's four wives.
His father was set to be chief, but a dispute with the local colonial magistrate changed the future that had been carved out. Mandela's father lost his title and fortune, which forced the family to move to an even smaller village, Qunu.
The student
A family friend suggested to Mandela's father that he have his young son baptized in the Methodist Church so that he could attend school. Mandela became the first in the family to receive a formal education, and as a reflection of the British bias within the educational system, he was given the first name "Nelson."
When Mandela was 9, his father died of lung disease, and a high-ranking Tembu chief adopted Mandela. Chief Jongintaba Dalindyebo moved the young Mandela into his royal residence. Mandela took classes with the regent's son and daughter in a one-room school next to the palace. He studied English, Xhosa, history and geography; he also learned the history of his country and people and how whites had arrived and taken the country from them.
Chief Jongintaba began grooming the teenage Mandela for high office, sending him to a Wesleyan — Methodist — mission school and Wesleyan College, which most Tembu royalty attended. Mandela succeeded there academically and also pursued track and boxing.
At 21, Mandela enrolled at the University College of Fort Hare, the only higher-learning center for blacks in South Africa. It was considered to be Africa's Oxford or Harvard. He studied Roman Dutch law, which would have prepared him for a career in civil service as an interpreter or clerk — the best jobs available for black men. He also met Oliver Tambo there; the men would develop a lifelong bond.
During his second year, Mandela was elected to the Student Representative Council, or the SRC. But many students had been unhappy with how powerless the SRC was on campus, and a majority voted to boycott the elections. Mandela resigned from his post to join those students in their protest. School officials expelled him for insubordination.
Furious with Mandela, Chief Jongintaba told him to apologize so that he could return to school in the fall. The chief also announced that he had arranged a marriage for Mandela. Feeling trapped, Mandela ran away to Johannesburg, where he worked at odd jobs. He also finished his bachelor's degree through correspondence courses at the University of South Africa.