Marty Walsh team solicits views on economic development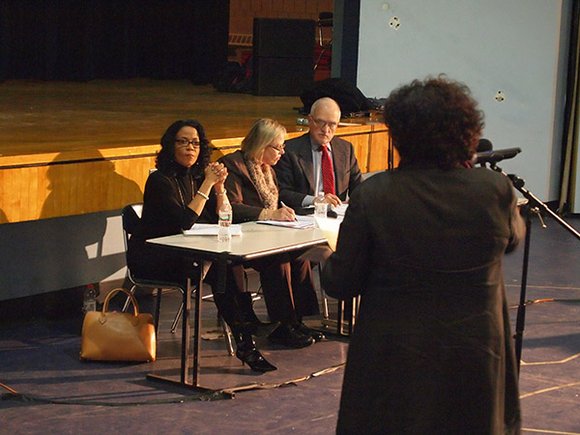 The economic development hearing at English High was moderated by the heads of the economic development working group committee: Donna Cupelo, regional president at Verizon, and Pat Moscaritolo, president and CEO of the Greater Boston Convention & Visitors Bureau. Committee member Beth Williams, president and CEO of Roxbury Technology, also led the hearing.
According to Moscaritolo, the economic development working group will meet again this week to discuss the major issues that came up at the hearing, they will then have a follow up meeting next week to determine a list of the main themes that need to be addressed and started to make their recommendations, which will go to Mayor-elect Walsh.
On the living wage issue, Moscaritolo said he does not know yet how the working group can address this, but clearly it is an issue that must be discussed by the committee.
"One of the people said there were only three people that are monitoring this and one of the recommendations was it should be audited or that kind of thing. That is very logical, but that takes money. I assume that you would have to figure out a way [to do that]," he said.
Moscaritolo pointed to the Sarbanes-Oxley Act as a successful way that businesses are audited to ensure compliance to government regulations as an example of the kind of thing that can work to address such issues.
One thing that Moscaritolo said struck him from the hearing was that most of those who spoke did not ask for money, but just for the mayor's support in what they are trying to do. He added that he was also impressed by the will and desire to improve Boston.
"The things I take away from this whole process is the passion of the community, who want to come out and talk about these issues. They see this as a new opportunity starting with a new administration to address these issues. And they do it in a really interesting way because they are not criticizing what is going on, but they are just saying now that you have a new set of eyes these are some of the things that the mayor might want to look at," Moscaritolo said. "The common denominator that I am seeing throughout all of this is passion, commitment, wanting to help and make things better."