Activists keep immigration reform in national spotlight
Yawu Miller | 12/4/2013, 11:26 a.m.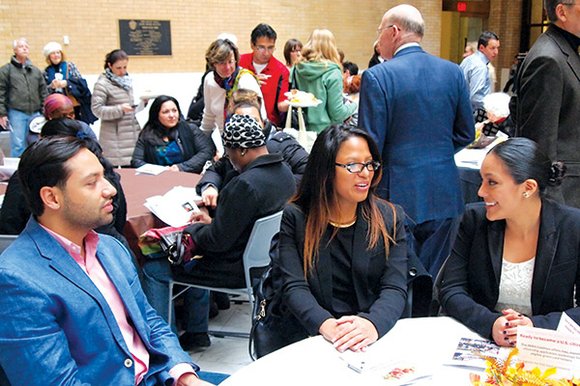 Despite a 2011 Department of Homeland Security policy memo calling for focusing limited public safety resources on deportation of dangerous criminals, incarceration and deportations of non-violent immigrants has continued apace.
In the first six months of 2011, the federal government pursued 18,552 new prosecutions for illegal re-entry, the crime of re-entering the U.S. after deportation, according to the Transactional Records Access Clearinghouse at Syracuse University. Illegal re-entry is now the number one lead charge federal prosecutors are lodging against all defendants.
In all, the Obama administration has been deporting 400,000 undocumented immigrants a year.
While the number of people caught crossing the U.S. border has declined in recent years, Secure Communities deportations and the number of ICE raids on workplaces and private residences have increased. Nearly 2 million undocumented immigrants have been deported during Obama's presidency, more than during any previous administration.
Teodoro says the president could stem the tide of deportations by directing ICE to follow its own 2011 memo and devote its resources on dangerous criminals.
"He has the power to stop the deportation of millions of people," she said.
Massachusetts Immigrant and Refugee Advocacy Coalition Executive Director Eva Milona notes that Obama could use his executive power as a bargaining chip with Congress.
"He has the power to issue an executive order to defer deportations until Congress acts," she said.
Boston mayor-elect Marty Walsh said he will seek to have Boston opt out of the Secure Communities program, speaking during a MIRA Coalition event at the State House last week.
U.S. Rep. Michael Capuano says it's unlikely Congress will pass the Senate's bill this year, given the hardline stands many Republicans have taken.
"My concern is that they'll gut it," he said. "It's an untenable position to suggest they should all go home. That's not going to happen."
Capuano said there's a good chance immigration reform will pass next year. But it will require a more mature conversation about the nation's priorities, he said.
"There has to be a thoughtful conversation about what this country needs," he said. "How many people do we need and what skills they bring."