In the Mix 08/29/2013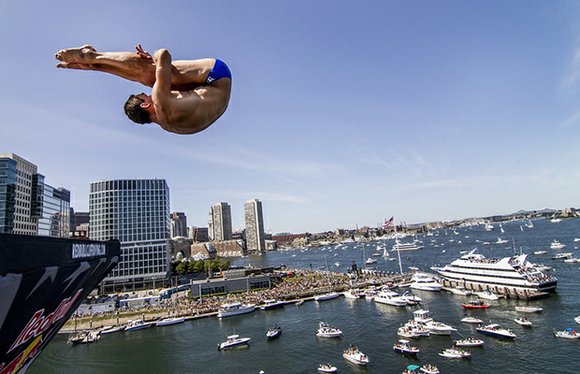 'Legends of the Summer'
This concert was a couple of weeks ago, but Justin Timberlake and Jay Z together on the same stage lived up to the title "Legends of the Summer." This show was definitely one of the highlights of the summer. Awesome, amazing, electric. What more can anyone say?
Cliff diving at the ICA, say what?
The Innovation District was hopping with locals and tourists alike for the 2013 Red Bull Cliff Diving World Series. It was an absolutely gorgeous summer day, with folks from all walks of life hanging out on Fan Pier and in boats in the harbor to watch the annual competition, all to the beat of a live DJ spinning from the steps of the Institute of Contemporary Art.

Young and old, people of all ethnicities were splayed out on the grass, eating and standing on the boardwalk, as the divers (including former Olympian Blake Aldridge) leapt the 90 feet from the roof of the ICA into the Boston Harbor. What a sight!
The 10 male divers, decked out in Speedos (some plain navy blue and black and one covered in Red Bull logos), performed flying back-somersaults, back-armstand dives, handstand dives, twists and reverse somersaults, all for the title. With the sun beating down, it was time to look for a cool spot in the shade.
In search of bolognese
If you're looking for bolognese, then head straight over to Pomodoro on Harvard St. in Brookline Village. It's a cozy and rustic restaurant that's a great place to meet up with friends and share a meal — or if you're looking to make a good impression on a first date. It's a bit expensive but oh so worth it.
The meals are hearty and flavorful, with a healthy portion size that's good for two to split. As soon as you're seated, you're served with Italian bread freshly warmed out of the oven, a dish of olives and olive oil for dipping. The arugula salad is made with tender arugula leaves with shaved parmesan and prosciutto di Parma. The bolognese, made of ragu of veal, pork and beef cooked with sweet tomato and cream, is delizioso!
You don't have to shlep to the North End, and there's plenty of street parking available. Make sure to bring cash with you, since credit credit cards aren't accepted.
Coming up
The Regatta Bar presents the five Berklee graduates of the Mario Castro Quintet + Strings on Tuesday, Sept. 10 at 7:30 p.m. To find out more, visit www.regattabarjazz.com.
The American Repertory Theater presents its production All The Way starring Bryan Cranston (Breaking Bad) beginning Friday, Sept. 13, and running through Saturday, Oct. 12, at the Loeb Drama Center in Cambridge. For tickets and more information, visit www.americanrepertorytheatre.org.
The 13th Annual Beantown Jazz Festival takes place on Saturday, Sept. 28, from noon to 6 p.m. on Columbus Avenue in the South End. The free outdoor festival features three stages of live music, arts and crafts and a family park. This year's special guest is 10-time Grammy-nominated neo-soul singer Meshell Ndgeocello. For full festival information, visit www.beantownjazz.org.
The Citi Performing Arts Center presents "The Made to Love Tour" starring John Legend on Oct. 22 at 7:30 p.m.
Tickets are on sale now for Justin Timberlake's "The 20/20 Experience World Tour," which hits the TD Garden on Nov. 4.

If you would like Colette Greenstein to cover or write about your event, email inthemixwithcolette@gmail.com.