William P. Jones' 'The March on Washington' examines radical roots of march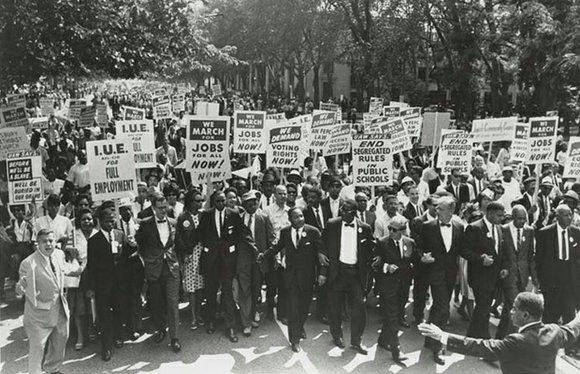 Like Randolph's earlier vision, the march was aimed at pressuring John F. Kennedy and Congress into taking more aggressive steps to enforce civil rights. Some of the movement's specific demands included a comprehensive civil rights law, access to decent and affordable housing, de-segregated education, the right to vote, raising the minimum wage and a federal program to train and place unemployed workers.
March organizers also wanted the federal government to withhold funding from programs that continued to discriminate against African Americans, and to reduce Congressional representation in states that refused to allow blacks to vote.
More than 200,000 people rallied in Washington, D.C., that day and heard speeches by Randolph, Student Nonviolent Coordinating Committee Chairman John Lewis, National Urban League Director Whitney Young, NAACP leader Roy Wilkins and others.
While today, the march is defined by Martin Luther King, Jr.'s "I have a dream" speech, Jones says that at the time, King's words didn't receive nearly as much attention.
In part, this was because "people didn't see his speech as an expression of the goals of the movement" — King's utopian vision starkly contrasted with the radicalism of the nine speakers before him. It was only after King's death in 1968, Jones explains, that the speech became legend.
"He was assassinated at a time when many people were frustrated with the progress toward racial equality and some of the goals that had been issued at the 'March on Washington,'" says Jones. "So his speech gained popularity in the 1970s and into the 1980s as an optimistic expression of a period when the Civil Rights Movement seemed to be gaining ground."
The government didn't meet all of the march organizers' demands, but the achievements were profound. The most significant, Jones says, was building support for the Lyndon B. Johnson's Civil Rights Act of 1964, a stronger version of a bill Kennedy had supported months before the mass mobilization.
But more broadly, Jones argues that the march successfully "shifted the conversation to push for rigorous federal policies aimed at creating racial equality and economic justice." This not only inspired the Civil Rights Act, but also the Voting Rights Act and Johnson's War on Poverty.
But today, just 50 years later, the Supreme Court is already reversing course — in particular, with its decision earlier this summer to strike down a key provision of the Voting Rights Act.
"What we saw this summer was an affirmation of the ideal of racial equality — that it's a good thing to treat everyone equally," says Jones, "but a decisive retreat from the idea that the federal government should play a hand or has the authority to uphold these ideals. The Supreme Court decision was a direct attack on the achievements of the march."
This setback is just another reminder of the continued relevance of the march. Says Jones: "It was not something that we won, and now we can move on from. The issues that led people to participate in the march are very similar to what we're still facing today."