One Hen hatches in Boston with program at Kroc Center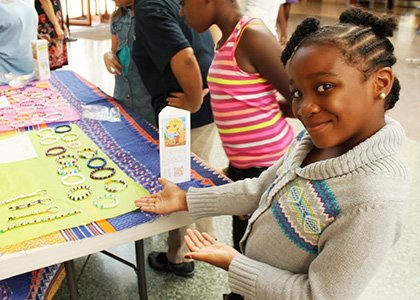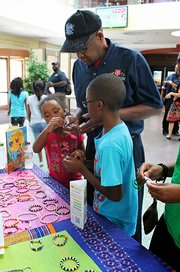 A dozen eight- and nine-year olds spent most of the summer learning what it means to get into business at Dorchester's Salvation Army Kroc Center.
Last week, the budding entrepreneurs took their self-made key chains and bracelets to market as an end to their One Hen Academy summer experience. They sold over $100 worth of products and plan to donate some of the money.
"Through the program the kids learn how to start their own small business … and it also teaches them to look at community needs," said Helen Rosenfeld, executive director of One Hen Inc. "This empowers kids to become social entrepreneurs to make a difference for themselves and the world."
Based in Boston, One Hen is a program that teaches children basic financial literacy, money management and business skills. Started in 2009, One Hen has produced an education curriculum for teaching elementary and middle school students about microfinance, social entrepreneurship and personal finance. Over 32,000 students have participated in its programs and more than 1,200 educators have been trained in the United States, the United Kingdom, Canada and Ghana.
According to Rosenfeld, One Hen got its start based on a children's book One Hen: How One Small Loan Made a Big Difference, by Katie Smith Milway. One Hen is the story of a West African boy, Kojo, who receives a small loan to buy a hen and from that one hen develops a successful business as an entrepreneur. He moves from poverty to being a provider and employer of others.
The book is called "a story of how the world undergoes change, one person, one family and one community at a time." It is based on the real experience of Kwabena Darko of Ghana.
The One Hen program held this summer at the Salvation Army Ray and Joan Kroc Corps Community Center of Boston — like all One Hen programs — starts with the kids reading the book. The story shows them how starting a small business with something as simple as selling eggs can turn into something much bigger.
"I think the kids really connect with the story of Kojo. … They got it," said Rosenfeld. "They also really enjoyed making the product and they really enjoyed selling it. The idea of standing up and convincing somebody to buy their product, they really enjoyed it. They really thrived."
The kids from Dorchester took part in the One Hen program every Tuesday and Thursday for two hours as part of the Kroc Center's summer camp for youth. The kids received micro-loans to start their simple businesses making key chains and bracelets. On Aug. 6, they got a chance to practice their sales skills and sell their products at a community market at the Kroc Center.
Rosenfeld said that the kids were able to quickly relate to the concept of being an entrepreneur and it helped them recognize businessmen and businesswomen from their community. "These are people they know and they can relate to and it shows them that they can do it too," she said.