Minority developers file suit against Northeastern Univ.
Columbia Plaza Associates suit charges school for reneging on development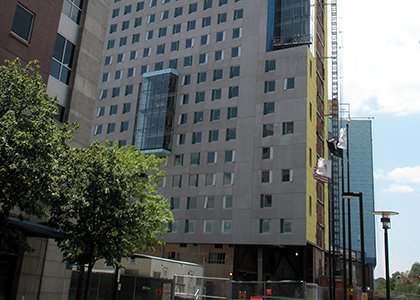 "The BRA created the program because it determined that minority access to development opportunities and its attendant economic benefits 'will most likely be denied' without their intervention," the CPA stated. "The BRA proactively responded by creating the Linkage Program to make the benefits of Boston's economic development more inclusive."
As part of the development of One Lincoln, now called the State Street Financial Center, the city mandated a minimum 30 percent ownership stake be awarded to a minority group and that 30 percent of construction and technical contracts go to minority-owned companies.
The BRA named Columbia Plaza Associates as the project's equity principal. Shortly thereafter, CPA began developing the site that was linked with the One Lincoln development—Parcel 18.
But after years of negotiations, the partnership of CPA and Northeastern has ended up in court.
"By breaching its contractual obligations to CPA, Northeastern has effectively taken over the Parcel 18 development," CPA stated. "CPA is determined to prevent Northeastern University from unjustly enriching itself by manipulating the BRA's Linkage Program to its exclusive benefit, at the expense of Boston's communities of color."
CPA knows how much communities of color can benefit from economic development. After One Lincoln was sold, CPA was able to distribute more than $1 million to several non-profit agencies serving Boston's communities of color.
"The Parcel 18 development was similarly positioned to generate significant economic benefits for Boston's Roxbury community," CPA stated.