Boston Mayoral candidates grilled on housing issues at forum
Carlos Solis | 8/14/2013, 11:35 a.m.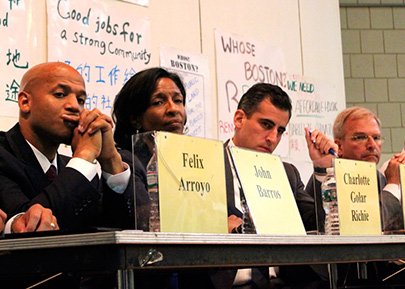 Walsh agreed with the group's measures.
"The federal government shouldn't have given [banks] money to keep their doors open so they could shut your doors," he said.
Yancey agreed with the group's ideas and noted that he's attended City Life's eviction blockades, actions designed to disrupt foreclosure auctions and force banks to negotiate with homeowners in default.
Arroyo also cited his attendance at the blockades, noted that he's intervened by phoning banks on behalf of homeowners and gone to housing court with homeowners seeking to halt foreclosures.
"I've been there with you at the court house," he said.
Arroyo also noted that he wrote legislation that would require the city to deposit the more than $1 billion in cash it holds in banks that invest in local communities, rather than in Wall Street banks.
Barros agreed with the group's suggestions and said he's had experience using eminent domain to renegotiate mortgages. The Dudley Street Neighborhood Initiative was given the power of eminent domain by the city in the 1980s to take vacant land from speculators and hold it in a community land trust.
The seven mayoral candidates present at the forum were among the most progressive in the race. Most of them, with the exception of Ross, have not received significant contributions from real estate developers and large financial institutions.
Unable to attend were Suffolk District Attorney Dan Conley, Boston City Councilors John Connelly and Rob Consalvo, radio host Charles Clemmons and David James Wyatt.