In the Mix: 'The Butler'
Screenwriter Danny Strong discusses Lee Daniels' 'The Butler'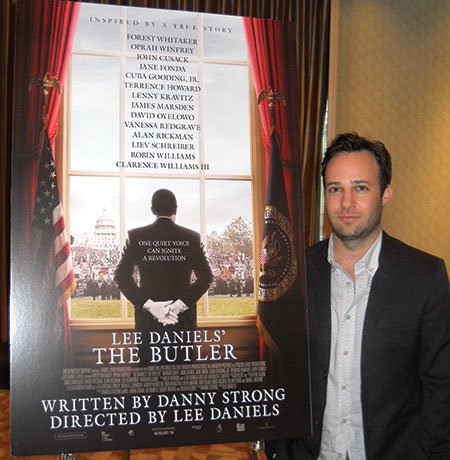 What struck you about the article that the film is based on and how much did you draw from that article?
It was the concept of a character that is in the White House through the decades. I thought, there could be something really special there. I have no idea what it is. I have no idea how I'm going to write this or what the story is. But just the concept seemed really great. It was very difficult. It was the most complicated script I've ever written.
When you see the movie, it's seems so obvious that it's going to be a movie about the Civil Rights Movement. And of course, that's the story. I didn't know that's what it was going to be when I started. It could have been anything. The whole movie could have been about one administration. We could have done whatever we wanted. There are so many historical events. So, which ones do you choose from?
What do you cover politically because it does take place in the White House? If you're not covering history and politics what's the point of the concept of it being about the White House butler? It could be about anything. So figuring out that I was going to make the spine of the movie the Civil Rights Movement was a big breakthrough for me, and then figuring out the father-son dynamic. When I came up with those two things I thought, that's the story.
Did you have an opportunity to interview Eugene Allen's son or anyone in the family?
I interviewed Eugene Allen and I spent a lot of time with his son. And I still talk to his son Charles. I love Charles. A lot of stuff from the movie comes from my conversation with Charles about black history that didn't necessary relate to Charles himself.
Another element that was very helpful was memoirs of people that worked in the White House. One that was particularly helpful was My 21 Years in the White House by Alonzo Fields.
In the case of Charles, who loves the movie by the way — and what I loved about Charles, was early on after I'd written the scripts, how much he was on board with the fact that it wasn't going to be his dad's exact life story, that the character of Cecil Gaines had created this composite character. But nonetheless, there's still quite a bit inspired by Eugene Allen. I remember in my interview with him, I asked him about the Civil Rights Movement and he said "I'm too old for that." To me, that's the heart of Cecil Gaines.
What would you like people to walk away from in respect to everything going on in America today?
A better understanding of the history of race in America. I don't think people know our past that well. I said that to Lee Daniels at our first meeting. And he said, "That's why I'm doing this. But I'm not doing it for white America. I'm here for black America." He said, "My daughter who goes to a private school in New York City knows more about the Holocaust than her own history."
See Lee Daniels' The Butler when it opens in theaters nationwide on Aug. 16.
If you would like Colette Greenstein to cover or write about your event, email her at inthemixwithcolette@gmail.com.