In the Mix: 'The Butler'
Screenwriter Danny Strong discusses Lee Daniels' 'The Butler'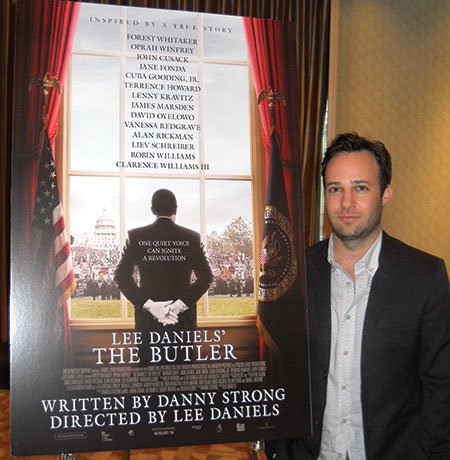 Best known for his character "Jonathan Levinson" on the long-running television series Buffy the Vampire Slayer and for his recent role as "Danny Siegel," the first Jewish ad man at the fictional Sterling Cooper Draper Pryce on the hit series Mad Men, Danny Strong is an accomplished, award-winning screenwriter, producer and actor — all before the age of 40.
Strong made the seamless transition from acting to writing in part because his friend Michael McCall (21 Jump Street and Scott Pilgrim vs. the World), who he auditioned against for many years, sold a script and Strong said that he "was so jealous that he was taking meetings with executives and I was still auditioning for a Frosty Nut Crunch commercial."
And so he wrote his first script, called Recount, which took an intimate look at the 2000 U.S. presidential election. The film premiered on HBO in 2008 and starred Kevin Spacey, Laura Dern, Tom Wilkinson and Denis Leary. Strong won his first Writers Guild Award for Recount and received his first Emmy nomination in the Outstanding Writing for a Miniseries, Movie or Dramatic Special category.
He also wrote and executive-produced the much-talked-about film Game Change, based on the bestselling book of the same name by John Heilemann and Mark Halperin, which chronicles the historic events of the 2008 U.S. presidential election. The film starred Julianne Moore in the title role of Sarah Palin and Ed Harris as Senator John McCain. The film went on to win five Emmys, including two individual wins for Strong in the categories of Outstanding Miniseries or Movie and Outstanding Writing for a Miniseries, Movie or a Dramatic Special categories.
Strong's latest challenge is writing the highly anticipated two-part finale to The Hunger Games trilogy, Mocking Jay Part 1 and Mocking Jay Part 2, due to be released in November of 2014 and 2015. In addition, Strong is also set to make his directorial debut with The Crusaders, a film about Thurgood Marshall and the historical 1954 Brown v. Board of Education case, and he'll also produce the upcoming Sugar Ray Robinson biopic Sweet Thunder starring David Oyelowo.
Before the finale of The Hunger Games gets under way, Strong is on a promotional tour discussing his latest film, Lee Daniels' The Butler. The drama tells the story of fictional White House butler Cecil Gaines, played by Forest Whitaker, who serves during seven presidential administrations between 1957 and 1986. The film is inspired by Wil Haygood's 2008 Washington Post article "A Butler Well Served by This Election", which chronicled the real life of former White House butler Eugene Allen.
During a recent roundtable interview in Boston to promote Lee Daniels' The Butler, Danny Strong talked about the making of the film and the person that inspired it.
Are you happy with the film?
I love the movie. I think Lee Daniels did such an amazing job. The actors are just tremendous and I think these performances are tremendous. I'm really proud of it and I think Lee is proud it. We're just excited to get it out there.