Former Councilor Chuck Turner back in Boston, working with activists
Yawu Miller | 8/7/2013, 11:20 a.m.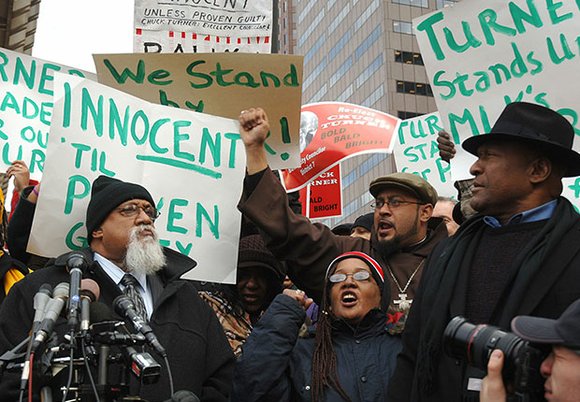 As it turned out, Turner had just 10 more days in prison. He was released to the halfway house on July 18.
"What really happened is that as I began to think about the power I had in the situation, I went from thinking I was powerless in the situation to a conviction that I really do have power," Turner said. 
Turner will remain under the supervision of the halfway house until January of next year. In the meantime, he is working out of Imani House, a Grove Hall nonprofit, to plan a convening of activists to strategize a new movement to better the lot of blacks in Boston.
"What I'd like to do is call on the elders — those who are 50 years old and up, those who were born at the time we declared our intent to become citizens of the United States with full legal rights," he says. "As the first generation that has integrated into American culture, we have to report back on the progress we've made in business, economic development and other areas and begin an assessment of our failures and successes."
Turner's conversations with activists have sparked reflection on the state of blacks in Boston. He says that while some blacks have made material gains, the black community has abandoned the values that it relied on to make the gains of the Civil Rights Movement.
Turner himself was part of the movements of the '70s and '80s that paved the way for blacks in Boston to participate more fully in the city's civic life — the court-ordered desegregation of the city's public housing and schools and the consent decrees that led to the hiring of black and Latino police officers and firefighters.
But the Civil Rights Movement has had limited success, according to Turner. Many blacks have been unwilling or unable to participate in the expanded opportunities the older generation has fought for, instead becoming enmeshed in the criminal justice system and effectively barred from working or even receiving housing subsidies.
"The reality is that there are a lot of people in their 20s and 30s who have not had the experience of working in an organized environment and have no skills," he says. "When you look at us, we're on the margins of the economy.
"For 350 years we've experienced what it's like to be at the bottom of a society that's based on wealth and power. We've been on the outside. Now, some of us are on the inside pushing a strategy for individual advancement."
Turner says he hopes to expand his conversation with elders to include representatives of the younger generation and talk about creating a new system of values that helps build community.
"I think we have the responsibility as elders to help the younger generation think about a value system that can replace egoism and materialism," he says. "We've been caught up in a struggle for wealth and power, but we've lost our values."