Vaccinations key to reducing HPV's deadly strands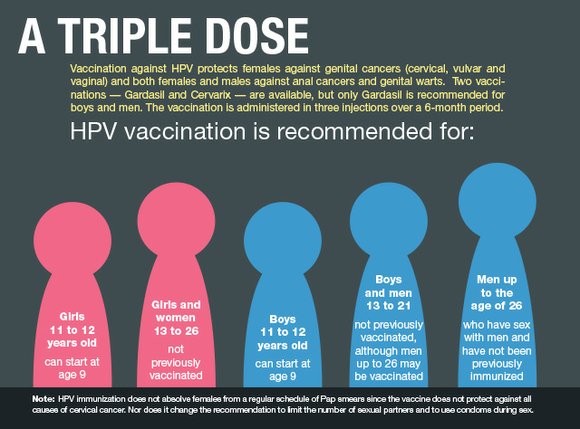 If these changes persist, it is recommended for the individual to be followed by a gynecologist experienced in treating these conditions, advised Matulonis.
Correct and consistent condom use can reduce transmission but may not be 100 percent effective since HPV is transferred from skin to skin. The exposed areas — even when using condoms — are fair game.
Vaccinations are ultimately the best answer. In 2006, the Advisory Committee on Immunization Practices (ACIP) recommended HPV vaccination for females aged 11-12 and as young as nine. If not administered by the age of 12, catch-up vaccination is recommended for females aged 13-26. The vaccine is administered as a 3-dose series over a 6-month period.
In 2011, the ACIP extended this vaccination schedule to males. Two vaccines are available. Gardasil, manufactured by Merck and Co., Inc., protects against HPV 16 and 18 as well as the viruses that cause 90 percent of the cases of genital warts in both males and females.
Another vaccine, Cervarix, manufactured by GlaxoSmithKline, protects against two of those subtypes, and is not recommended for males.
Although a vaccine has been in existence for six years, immunization rates in this country still remain low. The National Immunization Survey-Teen of 2011 found that nationwide, only a third of adolescent girls aged 13-17 years had received the three recommended doses. Sadly, the lowest vaccination rates are found in minorities, who have a higher incidence and death rate from HPV-caused cancers.
The reasons for non-compliance are varied. Because of the relative newness of the vaccination and doubts about its safety, parents are not flocking to their pediatricians to obtain the three shots for their children. Some parents also believe that protection brings with it the license for sex.
One study published recently in Pediatrics disputed that theory. The researchers followed 11- to 12-year-old girls for three years after HPV vaccination and looked for clinical markers of sexual activity, such as sexually transmitted diseases, pregnancy and contraceptive counseling. They found that sexual behavior in the vaccinated group did not differ significantly from those girls who were not vaccinated.
A recent study at Boston University School of Medicine found that although a high percentage of parents interviewed were knowledgeable about HPV and its consequences, they still were slow to have their children vaccinated. Some parents preferred to leave the decision to their children when they reached adulthood.
A lack of state mandates is also to blame. Even Massachusetts has fallen short in this area despite leading the nation in other immunization rates. Only half the females had completed the three-dose recommendation for HPV, while the rates for tetanus and hepatitis exceeded 90 percent.
To date, only Virginia and Washington, D.C. mandate HPV vaccination for school attendance.
This apparent nonchalance toward the HPV vaccination will limit its impact in this country, Matulonis argues. "A high percentage of the population has to be vaccinated in order to achieve a herd effect," she said.
Herd immunity occurs when a significant portion of the population provides some protection for unvaccinated persons. It is this herd immunity that eventually wiped out smallpox.
The HPV vaccine is relatively new and only recently was extended to males, but Matulonis is keeping a positive attitude. "We have to follow the group of immunized people over time," she said.
State-mandated or not, vaccines remain an option. But Matulonis adds a word of caution. "In order for the vaccine to have a chance to protect against HPV infection, it must be given to an individual before their first sexual intercourse encounter," she advised. "The vaccine cannot help people who are already infected with high-risk HPV."