Tsarnaev brother charged in deadly Marathon bombing
Associated Press | 4/24/2013, 8:36 a.m.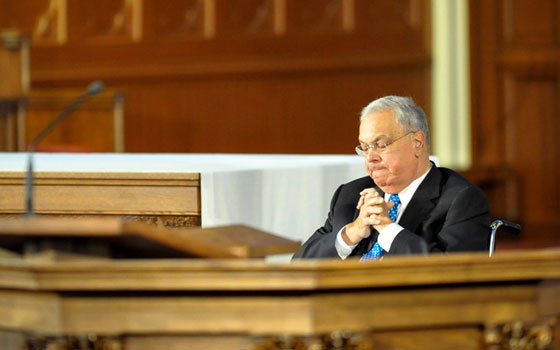 The affidavit said that during the carjacking around midnight Thursday night, one of the brothers pointed a gun at the victim and said: "Did you hear about the Boston explosion?" and then added: "I did that ... I am serious."
The FBI said video surveillance tape from a gas station where the suspects forced the carjacking victim to withdraw cash from an automatic teller machine shows two men who look like the accused brothers.
The victim told police that, inside the car, the brothers declared "that they were the Boston Marathon bombers and would not kill him because he wasn't American," according to a report by the Cambridge Police Department. The victim was described as an Asian American male.
After the shootout, police found homemade bombs that appeared to be of the same design and materials as the ones used to attack the marathon, the FBI said. At least one was a pressure cooker that contained BBs and nails, the affidavit said.
When Dzhokhar Tsarnaev was finally apprehended hiding inside a boat in a yard Friday night, he had gunshot wounds to his head, neck, legs and hand, the affidavit said. When agents searched his room at the University of Massachusetts at Dartmouth, they found, among other things, "a large pyrotechnic, a black jacket and a white hat of the same general appearance as those worn" by the bomber identified as Dzhokhar Tsarnaev at the Boston Marathon, according to the court papers.
The White House on Monday defended the decision to try Tsarnaev through regular civilian courts rather than as an enemy combatant as some lawmakers had suggested.
"We will prosecute this terrorist through our civilian system of justice," White House Press Secretary Jay Carney said.
The charges were filed just hours before a memorial service for one of the three people killed in the bombings, 23-year-old Boston University graduate student Lu Lingzi from Shenyang, China, was held at the school and attended by hundreds of people, including Massachusetts Gov. Deval Patrick.
The next step in the legal process against Tsarnaev is likely to be an indictment, in which federal prosecutors could add new charges. After Tsarnaev is indicted in the bombing, he will have an arraignment in federal court, when he will be asked to enter a plea.
Under federal law, as a defendant charged with a crime that carries a potential death penalty, he is entitled to at least one lawyer who is knowledgeable about the law in capital cases.
Federal Public Defender Miriam Conrad, whose office has been asked to represent Tsarnaev, filed a motion Monday asking that two death penalty lawyers be appointed to represent Tsarnaev, "given the magnitude of this case." A probable cause hearing — at which prosecutors will spell out the basics of their case — was set for May 30.
Material from the Associated Press, Boston Globe and other published reports contributed to this article.