Harvard honors retiring band director at celebratory show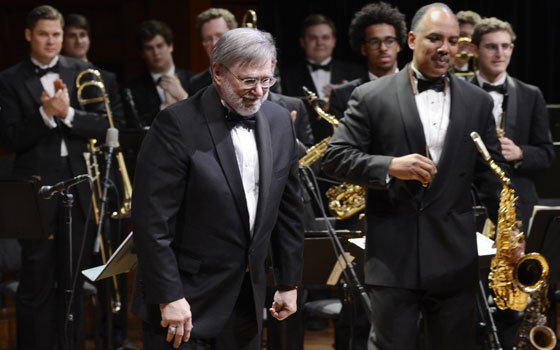 "Jazz offers so many unique opportunities for someone to grow, create and learn to interact with other people," Everett told a WHRB interviewer before the concert. "An educated person shouldn't leave Harvard without knowing at least Louie Armstrong, Charlie Parker, Lester Young and Duke Ellington."
Academic and jazz worlds met and cross-pollinated in Everett's classes and programs, which brought together the public as well as students and artists. All were welcomed with Everett's warmth and drawn by his far-ranging knowledge.
An enthusiastic crusader, Everett introduced students to the joys and risks of improvisation, coaxing them to challenge themselves and each other with a great sense of humor and fun as well as hard work.
While directing four undergraduate bands, a year into his job he also established the Harvard Summer Pops Band, which is open without audition to all, regardless of age or experience.
In 1973, Everett introduced the university's first jazz course for academic credit through the Harvard Extension School. Everett often brought in guest artists in town for club dates. In 1976, Everett introduced the annual Harvard University Jazz Masters in Residence program, which each year engages a guest artist in clinics, rehearsals, public conversations, concerts and often, a commissioned work.
Honoring a succession of his personal heroes, Everett has hosted such artists as Joe Williams, Zoot Sims, Lee Konitz, Dave Brubeck, Sabby Lewis, Alan Dawson, Bill Evans, Roy Hargrove, Hank Jones, Illinois Jacquet, Jim Hall, Max Roach, John Lewis, Eddie Palmieri, Jon Hendricks, Steve Lacy, Randy Weston, Mario Bauza and Benny Golson.
"Jazz is no longer underground at Harvard," Everett told the interviewer on WHRB, which programs jazz shows five days a week. "It's really grown, but not half the distance it can go."